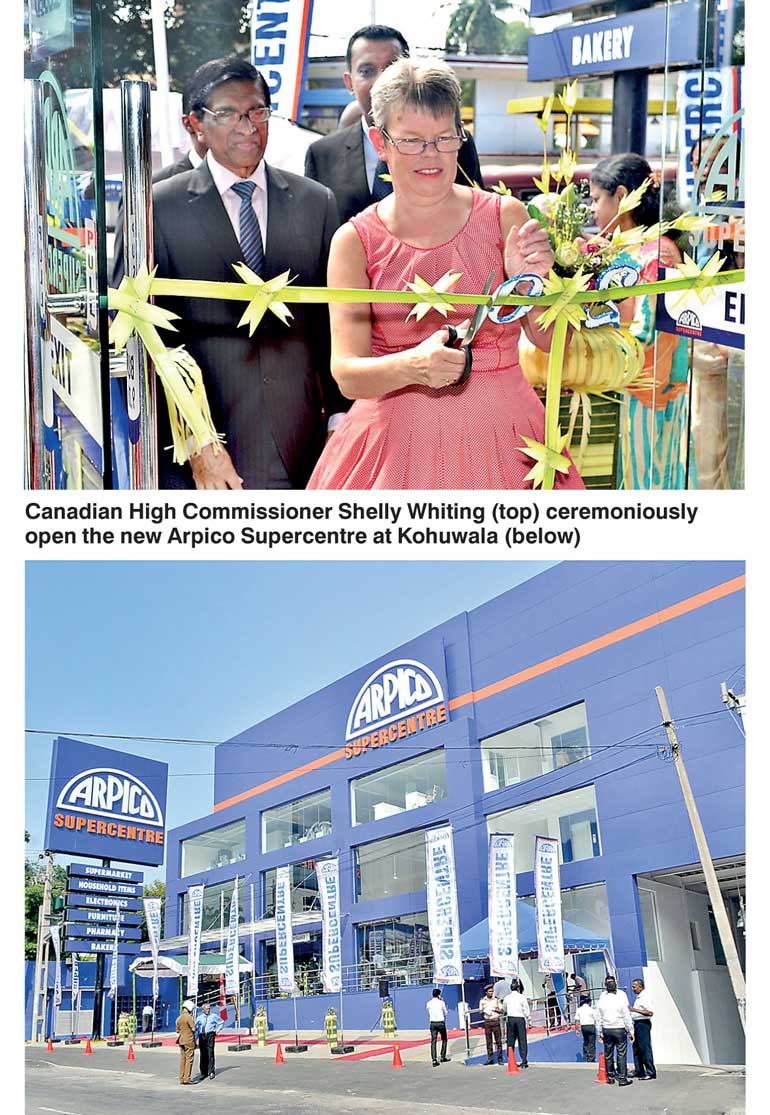 The shopping experience in the Kohuwala area is scaling new heights following the opening of a new, environment-friendly hypermarket in the heart of the suburb by Arpico.

The Arpico Supercentre at No. 89, S. De S. Jayasinghe Mawatha, Kohuwala, is the 20th hypermarket owned by the retail giant, and offers 25,000 square feet of shopping space for the customary panoramic product range synonymous with Arpico Supercentres elsewhere.

Additionally, the purpose-designed building's eco-friendly credentials make it one of the greenest supermarket outlets in Sri Lanka, the retailer said.

Formally declared open by Canadian High Commissioner Shelly Whiting, the new Arpico Supercentre accommodates more than 40,000 products including fast-moving consumer goods, fresh produce, household items, electronics and furniture under one roof, offering shoppers unmatched variety and brand choice.

With parking for more than 50 vehicles at a time, the typically wide aisles and ancillary lifestyle needs such as a pharmacy, a bakery and bill payment facilities, the Kohuwala Supercentre is also one of the most convenient shopping locations in the neighbourhood.

The new Supercentre also reflects the Arpico chain's efforts to be the leader in green supermarkets in Sri Lanka. Solar panels installed on the building generate clean energy with a capacity of 107 kWp (Kilo Watt Peak) and are capable of generating 2 GWh of electricity per annum. Inverter type air conditioning systems and refrigeration systems with CFC-free refrigerants help reduce power consumption and ozone depletion, and a waste water treatment plant eliminates the use of potable water for landscape irrigation.

Additionally, high efficacy LED lights, parabolic reflectors, roof insulations, sun control window films, air curtains, closed type island freezers and night curtains that close chiller displays during non-operating hours, strip curtains for cool room doors and LED decoration lights contribute to further savings in energy consumption.

The Arpico retail chain now comprises 20 Arpico Supercentres and Superstores, 16 showrooms and 23 Arpico Daily mini-supermarkets. The Arpico Supercentres are the company's flagship outlets, offering extensive parking, bill payments, banking facilities, lifestyle needs and the widest range of products with the promise to shoppers that they are the most convenient shopping destinations in the country.

The retail chain broke new ground in its spectrum of convenience last year with the launch of its e Supercentre, a sophisticated online shopping portal offering the widest product range online, accessible 24 hours a day from anywhere in the world.