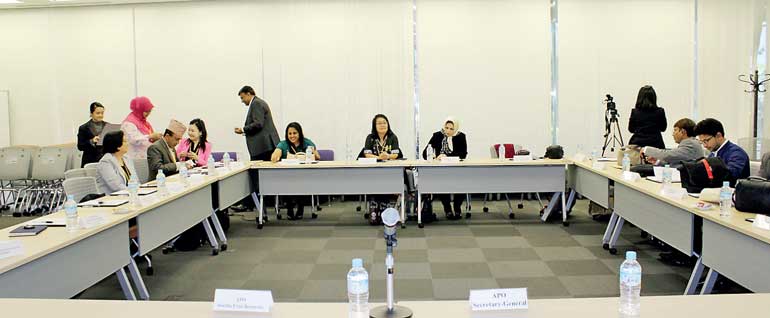 Text and Pix by Harsha Udayakantha Peiris reporting from Tokyo, Japan

The Mulitcountry Observational Study Mission for Mass Media Practitioners on Innovation and Productivity Promotion for SMEs commenced at the Asian Productivity Organization (APO) in Tokyo, Japan yesterday.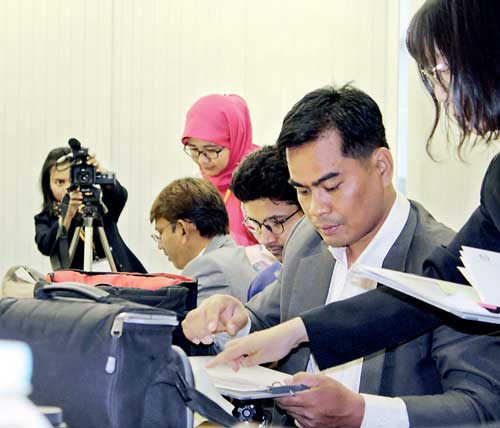 The five-day overseas study mission, organised and sponsored by the APO, attracted the participation of 19 journalists and media practitioners from Bangladesh, Cambodia, India, Indonesia, Iran, Malaysia, Mongolia, Nepal, the Philippines, Sri Lanka, Thailand and Vietnam.

The program has been organised with the objective of enhancing the knowledge and understanding of mass media practitioners of innovation and best practices in productivity enhancement for SMEs, to develop a framework for cooperation to strengthen the links of the APO with mass media practitioners and to engage mass media practitioners in productivity promotion in member countries.

Speaking at the inauguration of the program, APO Secretary General Dr. Shanthi Kanoktanaporn stated that accurate and timely awareness in promoting sustainable productivity was imperative in the present day socioeconomic development process of any Government.

"At the APO, we have identified three main global mega trends since 1960 - globalisation quality, Information Technology and sustainable development. At present, IT is part of our lives and it is changing our lives. In another few years Information Technology will completely change our world to a tremendous extent," he said. He also said that for the past 50 years, most countries in Asia have grown faster than the US and Western Europe.

"Less fertility driven, longer-span impacted population growth and aging societies are the changing demographics that slow down growth.

"Therefore, catching up with the rapid change and changing as fast as the world changes are both important factors to align the sector with any country's development process. Therefore, to make Asia more inclusive in the productivity opportunity, economies have to increase the participation in the workforce from women and those aged over 65. And also in the sectors like agriculture, mechanised or digital farming is more advantageous as an ongoing transition from agriculture to industry, to cities and services becoming more common. Helping people become more professional and more skilled leads to better quality for the urban citizen," he said.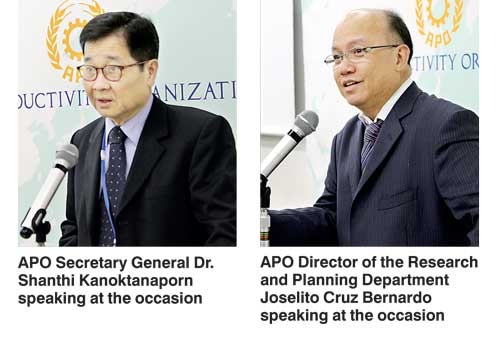 Addressing the occasion, the Director of the Research and Planning Department of the APO, Joselito Cruz Bernado, stated that the SME sector should get priority assistance from governments in order to successfully run the development drive in any economy.

"Adoption of new technology to go by the latest strategies of economic development cannot be avoided therefore, by any means. Therefore, it is high time that governments should think afresh of how journalists can effectively and sustainably join with governments to assist the authorities to disseminate the latest information on global best practices in the sector," he said.

This study mission is expected to provide opportunities for mass media practitioners to gain information about technologies or best practices so that they can help in disseminating it. The program also provides opportunities for mass media practitioners to establish networks among them across the region. Building upon such lessons, the APO is attempting to strengthen and expand its links with mass media practitioners in member countries in line with its strategies under the APO Road Map to achieve Vision 2020.

The program ends on 24 February following several important office sessions and field visits to observe SMEs and their practices in the Kyoto and Ibaraki prefectures.