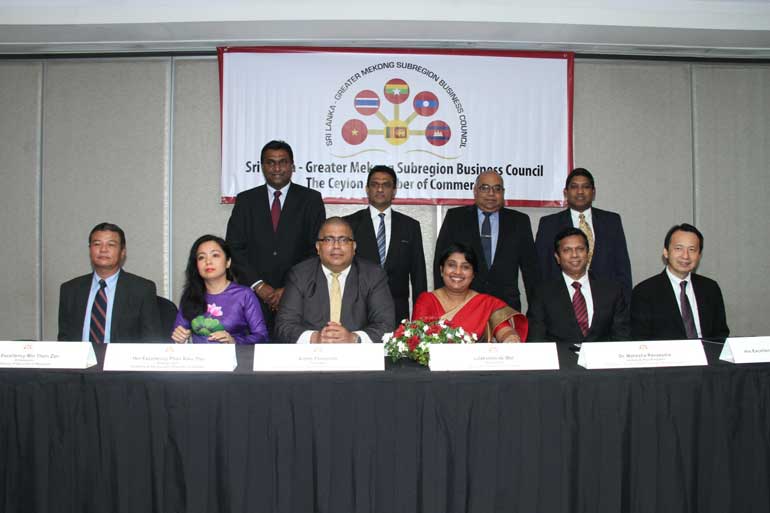 Seated from left: Ambassador for Myanmar Min Thein Zan, Ambassador for Vietnam PhanKieu Thu, newly elected President Andre Fernando, CCC Senior Asst. Secretary General Lilakshi de Mel, Immediate Past President Dr. Mahesha Ranasoma and Ambassador for Thailand Nopporn Adchariyavanich Standing from left: Committee Member Rohitha Thillekerathne, Vice President Sirimal Fernando, Committee Member Mahesh Pasqual and Vice President Ranil Senevirathne Not in photo: Vice President Vinodh Hirdaramani, Founder President Anton Godfrey and Committee Member Mahen Weerasekera
The Ceylon Chamber led Sri Lanka-Greater Mekong Sub region Business Council recently appointed Andre Fernando as the new President of the Council, at its fourth Annual General Meeting held in Colombo.

Vinodh Hirdaramani of Hirdaramani International Exports Ltd., Sirimal Fernando of Astron Ltd. and Ranil Senevirathne of Ranfer Group of companies were appointed as Vice Presidents of the Business Council. Dr. Mahesha Ranasoma and Antron Godfrey will continue to serve on the Committee as the Immediate Past and the Founder President respectively.

MahenWeerasekera of Capital Developers, Anura Edirisinghe of C.W. Mackie, Mahesh Pasqual of Isuru Engineering and Rohitha Thillekarathne of Merchant Lanka Ltd. were appointed to serve on the Committee.

The AGM was attended by three diplomats representing the Greater Mekong countries and among them are; Ambassador for Royal Thai Embassy in Sri Lanka Nopporn Adchariyavanich, Ambassador for Myanmar in Sri Lanka Min Thein Zan and Ambassador for Embassy of the Socialist Republic of Vietnam in Sri Lanka Phan Kieu Thu.

The Sri Lanka-Greater Mekong Sub region Business Council of the Ceylon Chamber of Commerce encompasses Cambodia, Laos, Myanmar, Thailand and Vietnam, which is a natural economic area bound together by the Mekong River.

If you wish to join the council as a member or obtain more information regarding the Sri Lanka-Greater Mekong Sub region Business Council, please email to: julianne@chamber.lk or call 011-558875.