Citi Country MD Ravin takes over as President
The 24th Annual General Meeting of the American Chamber of Commerce in Sri Lanka (AmCham) was held on 29 September at Hilton Colombo Residences, ushering in the new Board of Directors for 2016/2017.

Ravin Basnayake, the newly elected President, currently holds the position of Managing Director/Citi Country Officer for Citibank N.A, Sri Lanka. He is a veteran banker with over 27 years of banking experience and has held several key positions within Citi. Prior to his current appointment, he served as Head of the Corporate Banking Group, where he led the Global Banking Business in Sri Lanka.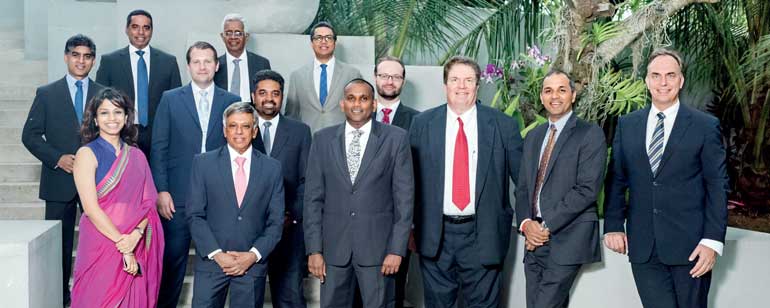 Amcham Board Of Directors 2016
Founded in 1992, the American Chamber of Commerce brings together 407 members representing 267 leading Sri Lankan and American companies based in Sri Lanka, engaged in trade, business and investment activities between Sri Lanka and the US.

Basnayake takes over from Asanka Ratnayake, who successfully completed two terms, being first elected in the 2014/2015 period. Ratnayake remains on the Board as President Emeritus.

The following is the newly-appointed Board of Directors.

Ravin Basnayake – President

Managing Director/Citi Country Officer - Citibank, N.A.

Dr. Kumudu Gunasekera – Vice President

Director – StaxInc

Asanka Ratnayake – President Emeritus

Group Director – Mountain Hawk Express Ltd.

Jim McCabe – Secretary

Chief Executive Officer – Standard Chartered Bank

Michael Koest–Treasurer

Managing Director/CEO – Ceylon Tobacco Company Plc

Susantha Pinto – Director

Chairman – Infotechs Ltd.

J.M. Swaminathan – Director

Senior Partner – Julius & Creasy

Brian Kealy – Director

Country Manager – Microsoft Sri Lanka Ltd.

Damien Gilkerson – Director

Managing Director – GlaxoWellcome Ceylon Ltd.

Prasantha Jayamaha – Director

Chairman – Best Western Elyon Colombo

Samantha Rajapaksa – Director

Managing Director – Associated Motorways Ltd.

Santosh Kumar – Director

Country Manager - MasterCard Singapore Holdings Ltd.

Shanil Fernando – Director

Managing Director – Cake Labs Ltd.

Partha Mazumdar - US Embassy Representative

Economic Chief – US Embassy to Sri Lanka and the Maldives