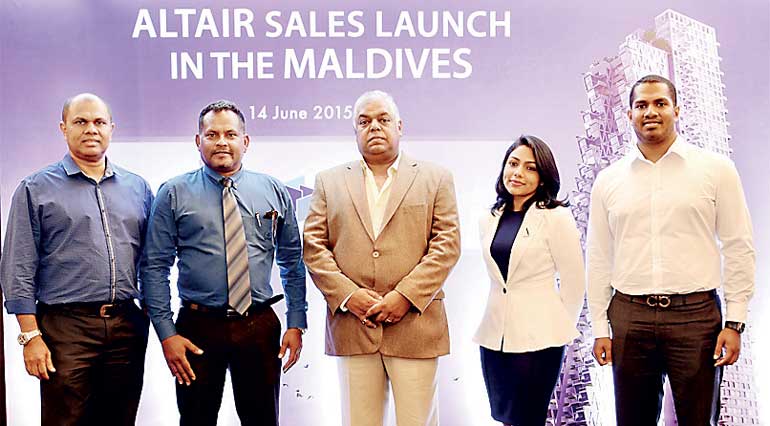 From left: Damas Real Estate Managing Director Abdulla Salih, Maldives Deputy Minister of Housing and Infrastructure Abdulla Ziyad, Indocean Developers Director Pradeep Moraes, Indocean Developers Sales Manager Anjela Ranasinghe and Damas Real Estate Director Zayan Salih at the launch event at Jen Hotel, Malé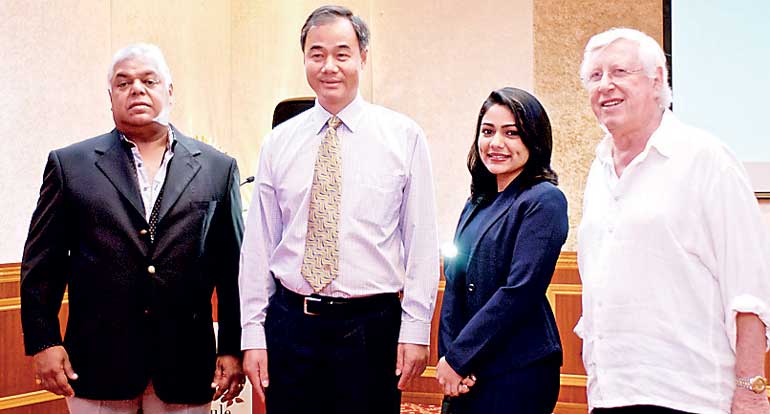 From left: Indocean Developers Director Pradeep Moraes, Ambassador of the People's Republic of China to the Republic of Maldives Wang Fukang, Indocean Developers Sales Manager

Anjela Ranasinghe and Berthold & Kotthoff Managing Partner Maldives Rolf E. Berthold
Altair, Sri Lanka's spectacular 'A' shaped high rise luxury condominium development has fired the imagination of the Maldivian elite following two launch events in the idyllic archipelago.

A gala launch event for Maldivian nationals at the Jen Hotel in Malé was attended by members of the upper echelon of Maldivian society including Members of Parliament and the Cabinet, resort owners and prominent businessmen.

A second event targeted at the expatriate community was held at the Hulhulé Island Hotel (HIH) and was attended by diplomats, foreign investors and expatriates holding senior executive positions in the Maldives.

These launch events were conducted by Indocean Developers Ltd., the promoter of Altair, in conjunction with DAMAS Real Estate and Berthold & Kotthoff, the local partners for promoting the development.

"The high degree of interest in Altair reflected its perceived potential as an inimitable luxury home for the affluent visitor, and as an investment property in a fast-developing market," Indocean Developers Director Pradeep Moraes said. "The fact that it is architecturally unique and will be an instantly-recognised landmark that will define Colombo's skyline is the icing on the cake."

A testament to the genius of architect Moshe Safdie and the wonders of modern architecture, Altair is intended to be a one-of-its-kind development in South Asia in terms of architectural design, structural engineering, and living experience.

Comprising two tower blocks, one of 63 storeys which leans in to a taller, 68-storey tower, Altair will offer its 400 apartments spectacular views of the Beira Lake, the Indian Ocean and the city of Colombo. Apartments range from 1,470 square foot, two bedroom units, to palatial and eponymously appointed Presidential Suites and Sky Villas of up to 5,300 square feet. The signature Diagrid structure of the high rise means that there are no pillars inside the apartments, resulting in spacious, open living areas.

The development's 1.5 million square feet of high-end eco-friendly living space will be supported by 40,000 square feet of up-market retail space. The project is scheduled for completion in 2017.