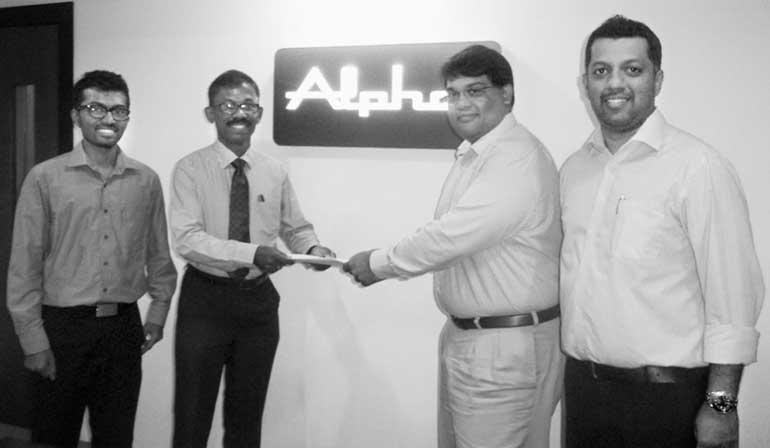 Founder Sameera Nilupul and CEO Dr. Chandana Gamage (2nd from left) of LiveRooms exchange the agreement with Managing Director Priyanjith Weerasooria and Director Sales and Marketing Safraz Careem of Alpha Industries
With Augmented Reality or AR already setting strides in the virtual business world being intermingled with technology, Sri Lanka's leading steel and wood-based furniture manufacturers, Alpha Industries have come on board with LiveRoom, a cloud based virtual showroom platform that is driven by the latest of AR technology. LiveRoom is the world's first PaaS (Platform as a Service) for advertising and marketing in AR technology for ecommerce.

Alpha Industries happens to be the first company in the region to have decided to adapt to this new technology. Alpha Industries are set to work closely with LiveRoom as the launch customer in Sri Lanka. After having recognised the immense demand for home furniture from prospective customers, the introduction of the AR concept would blend in well with customers who look forward to purchase furniture for their homes.

Augmented Reality enables its users to experience the physical world through overlaid information that can also incorporate elements such as audio, location and any other contexts in order to give the user more meaning into their experience. A well-attributed example would be IKEA Catalog, which is a standalone AR shopping app.

Commenting on this significant approach taken by the manufacturing company, Alpha Industries Director Sales and Marketing Safraz Careem said, "We have realised that Augmented Reality is the future of eCommerce and as a leading furniture manufacturer in Sri Lanka, Alpha Industries wants to support innovations and be the first company to use this platform. This approach only proves our commitment towards ensuring the best for our customers not only through product but through services as well."

He further added, "A customer can now download the app, take a photo of the product they are interested in at the showroom or website and place it in their home to see how it looks and fits in with their taste. This concept would go more in line with home products."

Alpha Industries accommodates furniture catering to a diverse range of customers. Moreover, Alpha provides their customers with the freedom to choose the furniture items they wish and change certain aspects such as the size and fabric in order to achieve that perfect fit.