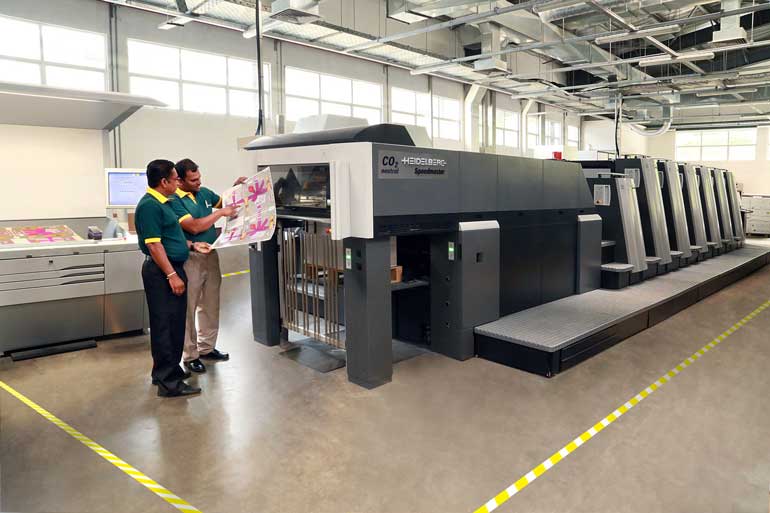 Heidelberg XL 75 machine in operation at Aitken Spence Priting premises
Industry pioneer Aitken Spence Printing recently installed the Heidelberg XL 75, the first CO2 free printing press in Sri Lanka, strengthening its position as the leading sustainable printing and packaging services provider in the region.

The high energy efficiency and the careful use of resources makes German-made Heidelberg XL 75 the most eco-friendly machine in its class. The CO2 footprint of the printing press is calculated according to cradle to gate and additionally the transport to the customer. It is based on a detailed analysis of energy consumption and transport needs, as well as on the percentage of the various materials with their specific CO2 footprint. In this case, not only the CO2 emissions caused during the production at Heidelberg is taken into consideration, but also those of the suppliers.

"We are committed to give our customers the printing and packaging solutions that will allow them to exceed stakeholder expectations in reliability, quality and sustainability. This machine increases our capacity and improves our level of agility in terms of handling low volume, high variety customer orders", said Aitken Spence Printing Managing Director Prasanna Karunathilake.

The company which counts six decades in the industry, brought international recognition to Sri Lanka by being the first in the region to operate from a LEED Gold Certified facility with its processes certified as carbon neutral. Aitken Spence was selected as one of the best five sustainable vendors at the Fonterra 2014 Global Vendor Awards in New Zealand.

In procurement, the company sources environmentally friendly, heavy metal free and Forestry Stewardship Council (FSC) certified materials, while materials are disposed by recycling and reusing. Karunathilake added: "Our focus is on sustainability. Our sustainability initiatives embodied holistic approach of printing, which encompasses innovation, people, facility, products, processes, technology, logistics and marketing. We believe that sustainability is not a simple list of discrete actions, but a continual improvement process, a culture and a way of pulling together the entire supply chain towards Green. We will be moving towards the ambitious goal of developing an integrated green supply chain, in line with the global movement for sustainable value chains".