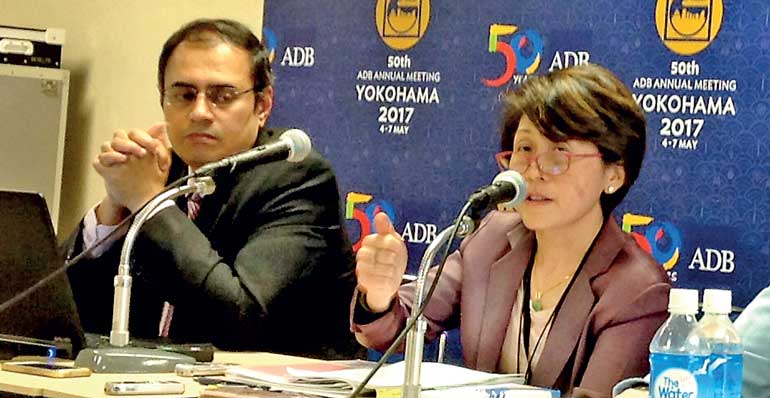 Charumini de Silva reporting from Yokohama, Japan

On the request of the Government, a team from the Asian Development Bank (ADB) has commenced discussions yesterday with Ministry of Megapolis officials to formulate a project to improve the basic facilities in Trincomalee City.

ADB officials said that the Government last week requested the ADB to consider extending assistance to improve the basic needs in Trincomalee City.

"A team from the ADB is currently having discussions with officials in Colombo. The project is to improve basic facilities in the Trincomalee Port area," ADB Technical Advisor – UrbanVijay Padmanabhan said on the sidelines of the media briefing on Water and Cities at the ADB annual meeting in Yokohama, Japan.

He said that ADB has lent around $2 to $2.5 billion for urbanisation within the last three years and hopes to reach $4 billion by 2020.

In addition he said the ADB would provide assistance to setup a desalination plant worth $100 million in Jaffna for drinking water.

"We are now focusing on strengthening irrigation in Jaffna. The funds will be disbursed within this year," he added.

According to him, the ADB is currently engaged in three key water-related projects in Colombo, Jaffna and Chronic Kidney Disease (CKD) prone areas in the Districts of Anuradhapura, Polonnaruwa, Matale, Badulla, Monaragala, Puttalam and Kurunegala – aproject called PuraNeguma.

Noting that the PuraNeguma project has been very successful, he said $60 million in funds would be utilised for the implementation of the safe drinking water supply schemes for the CKD-prone areas in the districts.

He said the Ministry of Provincial Councils and Local Government would be the Executing Agency of the project, while respective provincial councils would implement the project at provincial levels.

"We are working on an irrigation tank in Kilinochchi to support the agricultural sector in the area, while supporting another project in Puranagama," he said.

While the ADB yesterday revealed plans to lend a total of $4.2 billion for water security in the Asia Pacific, $1.8 billion of that has been allocated for South Asian countries.

With resettlement in the Jaffna peninsula taking place at a rapid pace, he said the irrigation projects would support to bring the livelihoods of the areas into mainstream economic activities.