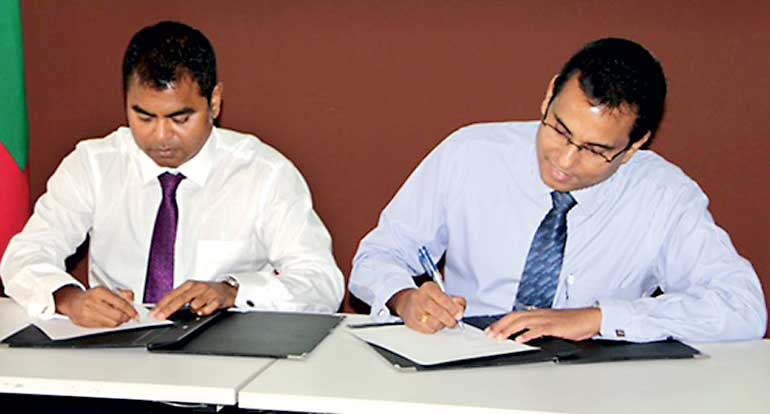 The contract being signed by Republic of Maldives Minister of Environment and Energy Thoriq Ibrahim Maldives and Lakdhanavi Chief Technology Officer Dammika Nanayakkara on 17 April
Lakdhanavi Ltd., a fully-owned subsidiary of LTL Holdings Ltd. and Sri Lanka's premier international power and energy sector engineering firm, has been awarded the contract to design, supply, install and commission an 8 MW power plant in Male, the capital city of Maldives.

The contract, which is valued at $ 9 m, was awarded by the Ministry of Environment and Energy of the Republic of Maldives and the project is funded by the Asian Development Bank (ADB).

The contract was signed by

Republic of Maldives Minister of Environment and Energy Thoriq Ibrahim and Lakdhanavi Ltd. Chief Technology Officer Dammika Nanayakkara at a contract signing ceremony held on 17 April in Male. The ceremony was attended by officials of the Maldivian Energy and Environment Ministry, the State Electricity Company of Maldives (STELCO) and officials of Lakdhanavi Ltd.

The contract was awarded after a two stage international competitive bidding process overseen by the ADB under its rules and regulations. During the bidding process Lakdhanavi Ltd. faced stiff competition from large and reputed engineering contractors from India, China, South Korea, Germany and Portugal. Lakdhanavi was evaluated to become the most technically competent bidder with the lowest price bid, displacing international competition.

All electromechanical and civil design engineering including project management work will be executed by Sri Lankan engineers to international standards. The project scope includes engineering of a state-of-the-art Supervisory Control and Data Acquisition System (SCADA), fuel and lube oil systems, charge air and exhaust gas system, sea water cooling systems and electrical power systems of the power station. The contract also includes training of Maldivian engineers in the operation of the plant.

This project internationally showcases world class Sri Lankan engineering expertise while bringing in foreign exchange to the country.

Lakdhanavi Ltd., a fully-owned subsidiary of LTL Holdings Ltd., a 100% Sri Lankan company, is the country's sole Engineering Procurement Construction and Project Management (EPC&PM) firm. To date Lakdhanavi has built and commissioned over 800 MW of thermal and renewable power plants locally and internationally. Lakdhanavi has built and presently operates Sri Lanka's largest combined cycle power station, the 300 MW Yugadhanavi Power Station in Kerawalapitya. In Bangladesh, Lakdhanavi Ltd. has built over 300 MW of thermal power plants while owning and operating 100 MW thermal power generation supplying the Bangladeshi National Grid.