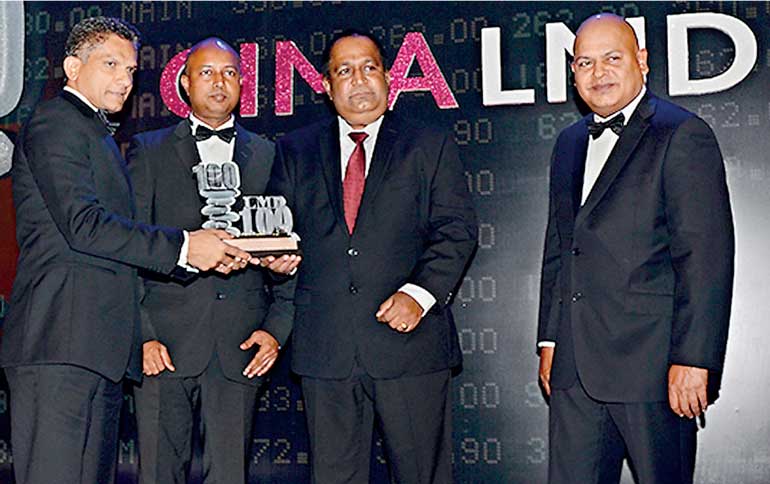 Access Engineering Managing Director Christopher Joshua accepting the award from Peoples Bank Head of Marketing and Public Affairs Deepal Abeysekara, CIMA Branding Committee Chairman Nishantha Weerakoon and LMD Sales Director Anil Boudewyn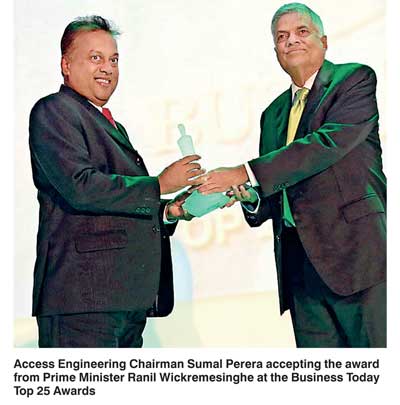 Access Engineering PLC was recognised at Business Today's 'Top 25' for being one of the Best corporates in the highly prestigious list of the Top 25 Companies in Sri Lanka and at the CIMA-LMD 100 Awards with the Construction and Engineering Sector Award.

Business Today's Top 25 is one of the most celebrated corporate award events since 1998 that acknowledges the top corporate performers, for their invaluable contribution towards reinforcing the country's economy. Business Today's Top 25 – 2015 Awards Ceremony was held at the Hilton Colombo where the occasion was graced by Prime Minister Ranil Wickramasinghe as Chief Guest.

The selection of the Business Today's Top 25 is strictly based on the published information of companies in the Colombo Stock Exchange and the financial criterion for consideration includes share turnover, revenue, profit after tax, return on equity, earning per share and market capitalisation.

Lanka Monthly Digest (LMD) in collaboration with CIMA presented the LMD 100's Hall of Fame recognising the contribution of Sri Lanka's most influential companies towards the shaping of the corporate landscape during financial year 2014/15. Access Engineering was presented with the No 1 Award in the Construction and Engineering Sector.