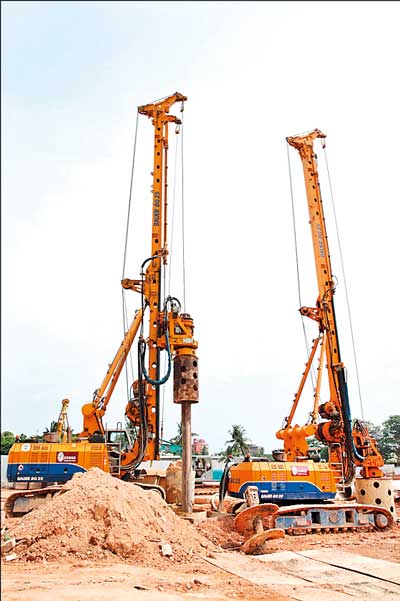 Access Engineering, one of the foremost civil engineering companies in Sri Lanka, takes pride in its specialist piling service arm that provides nationwide technical innovation and expertise related to bored pile foundation and ground improvement construction works.

Access Engineering has been continuously awarded with varied tasks and projects for the reputation that it has achieved for the outstanding quality products that could stand on time on land and over water and to these include some of iconic structures and developments in the country.

Access Engineering is presently engaged with the country's premier real estate developers, namely, Prime Homes Ltd., Blue Ocean Group of Companies, Fairway Holdings Ltd. and Complete Investment Ltd., for the construction works of multiple keynote projects.

The piling works that the company currently oversee for Fairway Holdings include testing and installation of 273 number of bored piles at Fairway Galle; two 12-storey residential apartments and Fairway Koswatta; 20-storey residential apartment project.

Further, Access Engineering is making swift progress in the piling work of a seven-storey residential apartment at Havelock Road and 12-storey residential apartments at Jayasinghe Road, Colombo 5 developed by Blue Ocean Group of Companies and The Cornwall, a residential apartment project developed by Complete Investment Ltd.

Working on these projects, Access Engineering continuously strives to employ latest technologies that ease the construction process in tight urban environments surrounded by high value and populous structures. Their impressive range of service offering is complemented by an extensive fleet of ancillary equipment which allows meeting diverse foundation problems with solutions that are tailored to each project's combination of loads and soil conditions.