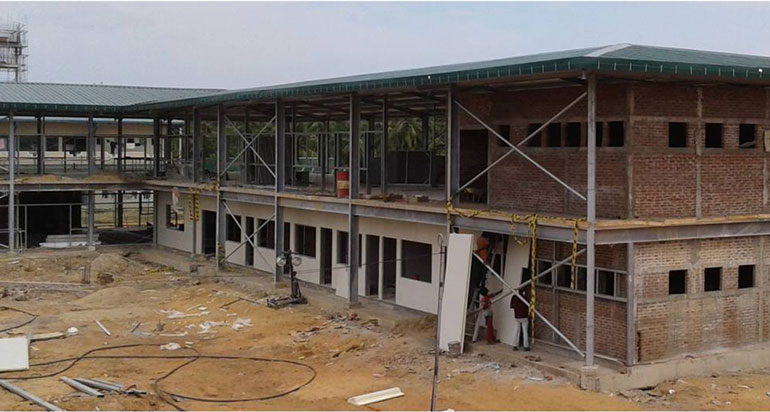 Pre-fabricated steel construction work at Lakvijaya Power Station in progress
Access Engineering PLC is scoring once again a remarkable progress in the steel structure fabrication sector in the civil engineering industry in Sri Lanka with its involvement towards the steel structure pre-fabrication works of dormitories for workers at the Lakvijaya Power Station at Norochcholai, Puttlam and the work is now inching closer to completion.

The Lakvijaya Power Station located in Norocholai, Puttalam is the largest power station in Sri Lanka. The operation of the power station was commissioned in September 2014 under two phases and the construction work of the pre-fabricated dormitories for workers, was entrusted to Access Engineering PLC. The project is executed by Ceylon Electricity Board under the guidance of the Ministry of Power and Energy.

The scope of the project includes the construction of two, 2-storied pre-fabricated steel buildings to house around 200 workers currently employed at the power station. The detailed design of the foundation and the steel superstructure was carried out by Access Engineering PLC. The steel superstructures of the two buildings are erected upon concrete substructures and the upper floor composite slabs use self supported steel decking sheets and steel wire mesh reinforcement.

The composite action of the slabs is ensured by using shear studs connected to the main steel components of the structures. The total building is to be covered with thermal resistance sandwich panels and roofing sheets manufactured in Sri Lanka.

"Completing the project within the tight time schedule is extremely challenging as the allocated time for the designs and approvals was extremely limited. Yet the entire team is striving hard to ensure the project meets the scheduled completion in March 2016," said Project Engineer Achala Kalinga.