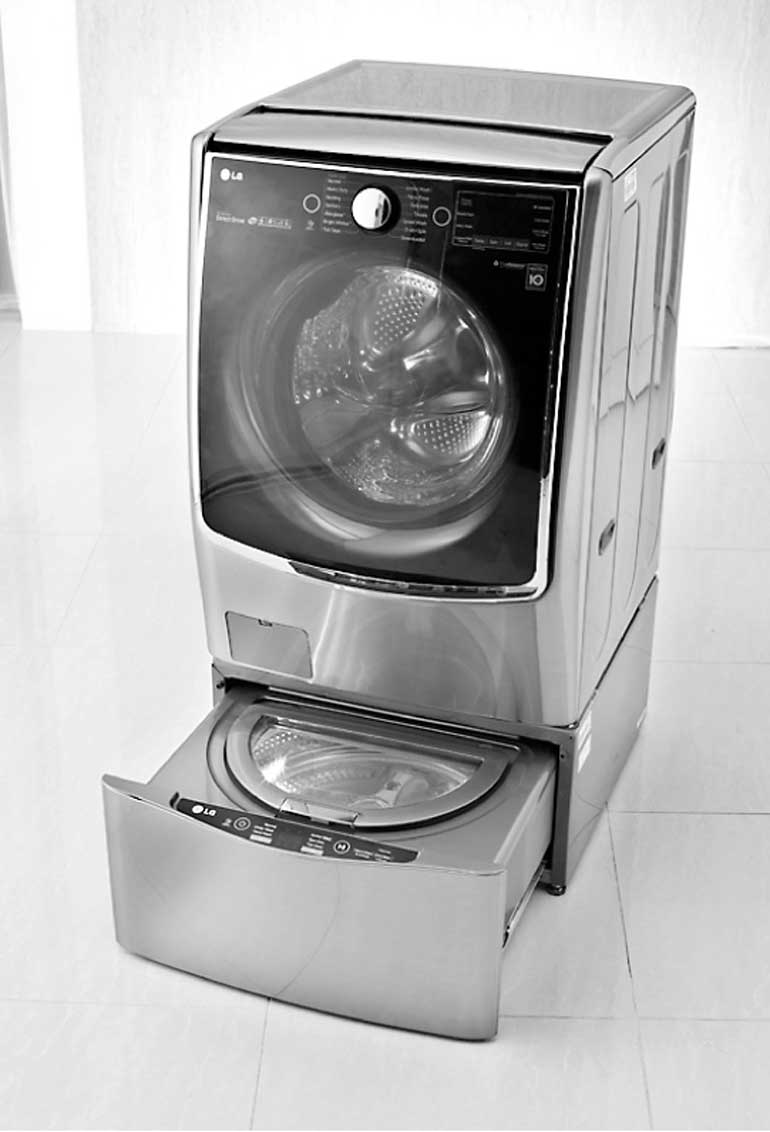 LG, one of the most popular global brands for home appliances, continues to redefine how we get laundry done with its latest addition to the LG Washing Machine range – LG TWINWash.

The LG TWINWash, using Korean technology, directly addresses the most common problems associated with laundry by offering consumers the option of using two innovative washers at the same time. This creates the opportunity for two laundry loads of differing fabrics and colours to be washed separately yet simultaneously, which in turn achieves greater savings on water, energy and time.

The LG TWINWash is comprised of a 21 kg Front Load Washer and the 3.5kg LG TWINWash Mini with each possessing one-of-a-kind features that lend to an impeccable wash for a wide diversity of clothing ranging from delicate fabrics to heavy duty clothing, making it easier to wash an entire week's worth of clothes in just one sitting.

The 21 kg Front Load Washer saves you a trip to the laundromat by tackling large loads of normal, badly soiled and tough-to-wash clothes. Due to its inclusion of the 6Motion DD, the front loader washer adapts the drum to correspond with fabric type and wash load using a unique combination of six motions – tumbling, stepping, scrubbing, rolling, swinging and filtration. The 6 Motion DD also provides options to adjust the intensity of the wash assuring you that your clothes will come out spotlessly clean.

The other salient function present in this large washer is the True Steam. Using pure steam solely composed of water, this function deeply permeates each layer of fabric to completely eliminate dust mites, allergens, pet dander and bacteria. The True Steam mitigates the probability of skin irritants lingering on the fabric, leading to freshly washed clothes that can be safely worn by family members who have sensitive skin or newborn babies and toddlers.

The 3.5 kg TWINWash Mini hosts the capability to wash delicate clothing varying from active wear and silk couture to baby clothes and undergarments. Featuring the 3 Motion DD, the TWINWash Mini provides three optimised motions that cleans clothes in an efficient and gentle manner. In addition, this detachable pedestal washer allows you to program laundry according to clothing type so that you receive a flawless wash.

Both washers employ LG's innovative Inverter Direct Drive that enhances the durability of the LG TWINWash. Unfettered by extra parts such as a belt or pulley, the Inverter Direct Drive directly transfers power to the drum which keeps your laundry moving seamlessly and provides more precise control. Themotor, backed by an international 10-year warranty, also ensures that the LG TWINWash will consistently produce a powerful performance over extended periods of time.

Conducting laundry tasks a couple of times throughout the week and hand washing delicates are now things of the past. Get a week's worth of laundry done for family in one sitting by purchasing the LG TWINWash from nearest ABANS or ABANS Elite Showroom. Customers can enjoy a special discount of Rs. 100,000 along with a two-year warranty when buying an LG TWINWash.