Wins quality standard for HVAC design, supply, installation planning and after-sales service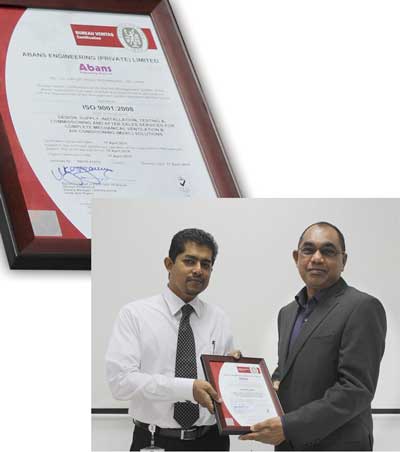 Abans Engineering Ltd., a subsidiary of the prestigious Abans Group of companies, received recognition for its continuous commitment to the highest standards of service quality in the air conditioning industry from Bureau Veritas Lanka Ltd., a world-renowned certification body and leader in ISO standards. Abans Engineering was awarded the ISO 9001: 2008 certificate after the completion of an audit.

Bureau Veritas General Manager Shan Nanayakkara awarded the certificate to Abans Engineering Managing Director Clive Fernando at a ceremony held at their premises.

The ISO standard for quality is measured through the continuous monitoring and recording of the Key Performance Index (KPI). Abans Engineering, an EM1 Grade company, has continued to demonstrate its commitment to improve MVAC/HVAC in the industry.

Managing Director Clive Fernando, the driving force behind this achievement, said: "This certification is beneficial for the company, the industry and valued customers. It helps us maintain our standards and see improvements in our services."

He further thanked the staff for their excellent work and highlighted in particular the contributions of Management Representative Buddika Wasala and all the staff of the company who contributed to achieving this standard.

Abans Engineering provides complete mechanical ventilation and air conditioning solutions from design, supply and installation to testing, commissioning and after-sales service.

Abans Engineering has been in operation for the past two decades in Sri Lanka and has been a sole agent and distributor for world-renowned air conditioning equipment.

TRANE – Ingersoll Rand of the US for Chillers, Air Handling Units, Fan Coil Units and Building Management Systems (BMS); Mitsubishi Electric Corporation - Japan for Variable Refrigerants Flow (VRF) and Air Cooled Packaged Type Air Conditioning Systems; LG Korea for VRF Air Conditioning Systems; P3 Pre Insulation Ducting materials from Italy and Mesan Cooling Towers from Hong Kong.

The design office, project office, factory and workshop of Abans Engineering Ltd. are located at 128, Airport Road, Ratmalana.

The company operates with four special target project teams which include 35 engineering staff members and six draughts persons and the maintenance and service section includes 24 engineers and 85 technicians who are trained abroad for the respective specialised brands.

A strong marketing team specialised in product selection, supports the design team in fulfilling customers' expectations.

The financial strength of the company ensures that it is stable enough to handle large-scale projects while a bonded warehouse facility is available for Duty Free projects.

Abans Engineering Ltd. continues to provide professional service to its valued customers with great personal commitment by implementing ISO 9001:2008 procedures and standards across its operations.