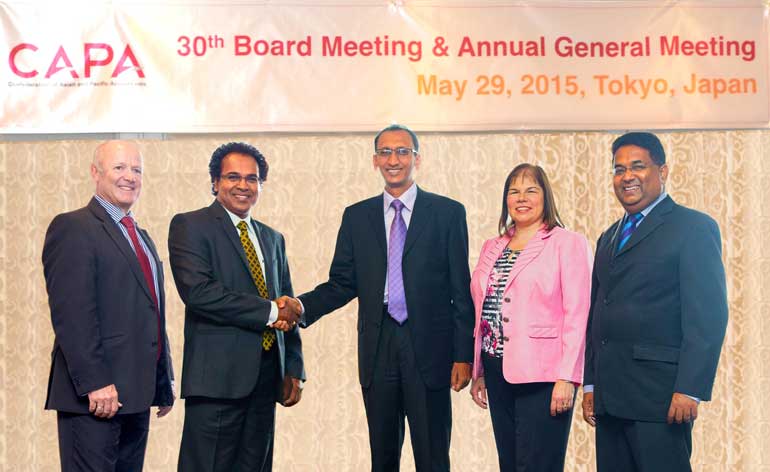 Receiving the full membership from CAPA President. From left: CAPA CEO Brian Blood, AAT Sri Lanka President Lalith T. Fernando, CAPA President Sujeewa Mudalige, CAPA Vice President Jackie Poirier and AAT Sri Lanka CEO Tishanga Kumarasinghe​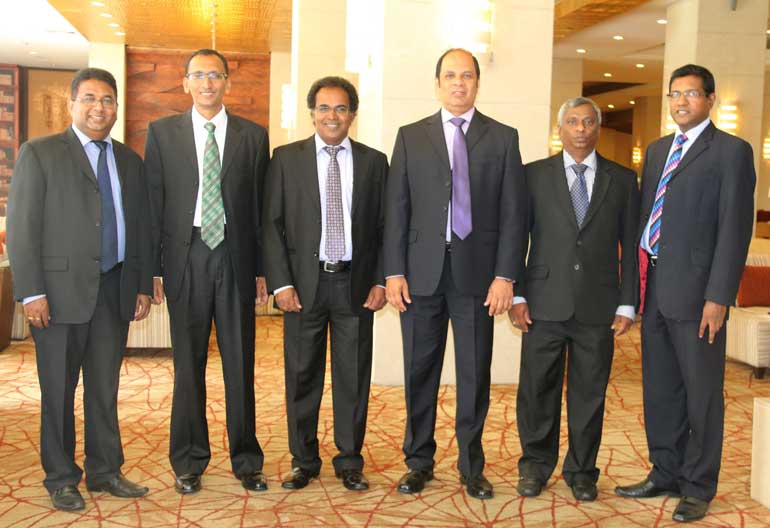 Congratulations from CA Sri Lanka. From left: AAT Sri Lanka CEO Tishanga Kumarasinghe, CAPA President Sujeewa Mudalige, AAT Sri Lanka President Lalith T. Fernando, CA Sri Lanka President Arjuna Herath, CA Sri Lanka Vice President Lasantha Wickramasinghe and CA Sri Lanka CEO Aruna Alwis
The Confederation of Asian and Pacific Accountants (CAPA) has admitted the Association of Accounting Technicians of Sri Lanka (AAT Sri Lanka) into its full membership effective from 1 January 2015, a change from the previously held Associate membership. The only other professional organisation enjoying full membership of CAPA in Sri Lanka is the Institute of Chartered Accountants of Sri Lanka (CA Sri Lanka).


AAT Sri Lanka was founded in 1987 on the recommendation of a research by the Asian Development Bank with the initiative of CA Sri Lanka to produce the middle level segment in the field of accountancy. At that time, a professional body for accounting technicians was in existence only in the United Kingdom.


On the occasion of receiving full membership of CAPA, AAT Sri Lanka President Lalith T. Fernando stated: "AAT Sri Lanka has served the nation for over 26 years, offering one of the most affordable qualifications for G.C.E. O/L and A/L students to pursue higher education to become professional accountants in the shortest possible time. Over this considerable period of time, it had registered over 250,000 students. This is around 1% of the population of the country. An institution that has not produced consistently good results cannot possibly achieve such success. We look forward to continuing our long and successful relationship with CAPA for mutual benefit." At present, with over 40,000 registered students, 4,200 professional members and 29,000 passed finalists, AAT Sri Lanka has become one of the leading educational bodies in the region that has consistently produced a large number of accounting professionals, much needed to a growing economy.


CEO Tishanga Kumarasinghe stated: "Full membership of this formidable organisation signifies the dedication and commitment of our members, all past presidents, council members, incumbent president and council."

CAPA is the regional organisation representing national accountancy organisations in the Asia-Pacific region. Today, CAPA has a membership of 32 professional accountancy organisations in 23 jurisdictions. CAPA's mission is to develop, coordinate, and advance the accounting profession in the region. To achieve this, CAPA works closely with the International Federation of Accountants (IFAC) the global body, other regional accounting organisations, and major international and regional development agencies such as the Asian Development Bank and the World Bank.

AAT Sri Lanka is also an associate member of IFAC and is on its way to seek full membership in the future. On the occasion of granting full membership of CAPA, President Sujeewa Mudalige highlighted: "Accounting technicians play a key role in the financial and performance reporting pipeline and are an important part of the accountancy profession, which is an area of interest to CAPA. I am happy to welcome AAT Sri Lanka as a full member in the CAPA family."