HackaDev Ambassadors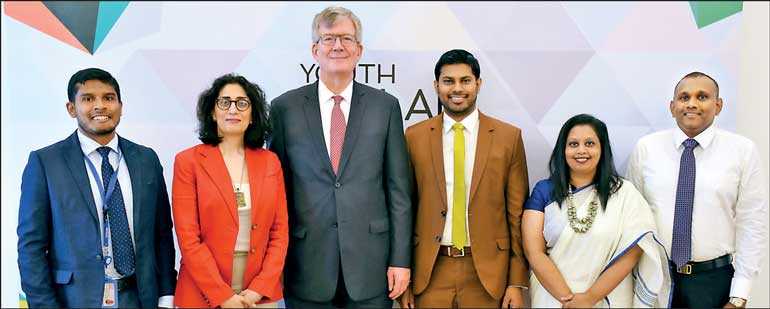 ---
The world's youth population is at an all-time high and the number this demographic is predicted to increase to 2 billion by 2050. With over a quarter of the Sri Lankan population consisting of youth and with only 10 years left to achieve the Sustainable Development Goals (SDGs), the way we engage young people today will determine the prospects for sustainable development and peace.

Recognising the resilience and positive contributions of young people as we enter the Decade of Action, the United Nations Development Program (UNDP) in Sri Lanka convened its annual 'National Youth Dialogue on Innovation, Leadership and Entrepreneurship' engaging over 250 young people from across the country.

Speaking at the dialogue, Ministry of Defence Digital Infrastructure & Information Technology Division Additional Secretary (Development) Waruna Sri Dhanapala stated, "The Government of Sri Lanka is committed to create the policies needed to ensure a future-fit youth by 2030. We stand ready to support you, every step of the way, in fulfilling your vision for Sri Lanka's developmental future."

With just 10 years left to achieve the vision of a sustainable future for all by 2030, the active engagement of youth is central to achieving inclusive and stable societies, and to averting the worst threats and challenges to sustainable development, including the impacts of climate change, unemployment, poverty, and gender inequality.

Entrepreneurship can provide young people with valuable skills such as critical thinking, leadership and innovation while contributing to sustainable development by creating jobs and driving economic growth.

Highlighting this, UNDP Resident Representative in Sri Lanka Robert Juhkam stated, "UNDP recognises that in an increasingly complex world where development challenges are continuously emerging and changing, there is an urgent need to move away from business as usual. This is why UNDP's innovative and disruptive programs such as the HackaDev Challenge and Academy are designed to help young people respond with agile and flexible solutions."

Following the dialogue, young entrepreneurs were recognised nationally for their efforts on social innovation and entrepreneurship. With the active participation of policymakers, regional level specialists and the private sector, the National Youth Dialogue provided a platform to drive global momentum for youth development and accelerate their commitments to action.

The Youth Dialogue is a regional initiative brought together by Youth Co:Lab which was co-created in 2017 by UNDP and the Citi Foundation to establish a common agenda for countries in the Asia-Pacific region to empower and invest in youth, so that they can accelerate the implementation of the Sustainable Development Goals (SDGs) through leadership, social innovation and entrepreneurship."

Speaking about the Youth Co:Lab, Citi Country Director Ravin Basnayake stated, "Citi, whilst celebrating 40 years in Sri Lanka, is proud to partner Youth Co:Lab as it showcases our commitment to tap and encourage the entrepreneurial spirit of our young people. The initiative has enabled youth to take the centre in tackling the region›s biggest economic and social challenges. We are glad to partner with UNDP on this regional initiative which also demonstrates the need for cross-sector approach to fulfil the ambitious Sustainable Development Goals by 2030".

The National Dialogue in Sri Lanka was convened in partnership with the Ministry of Defence, Ministry of Sports and Youth Affairs, National Youth Services Council-NYSC, Information and Communication Technology Agency of Sri Lanka (ICTA), Vocational Training Authority of Sri Lanka, Citi, Cisco, IdeaMart, WHO Sri Lanka, UNESCO New Delhi Office, UNICEF Sri Lanka, UNV Sri Lanka, HackaDev, Technopreneurship for Social Change, Youth Co:Lab, Citra Social Innovation Lab, Facebook and Generation Unlimited.