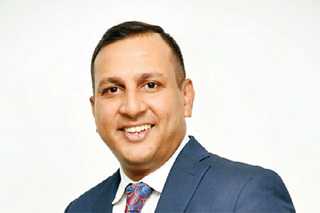 Virtrans Capital Group CEO Nirthaj Seelanatha
---
Adding a touch of inherent Sri Lankan hospitality to taxi hailing and food delivery, VirTrans Capital's YouCab and YouFoodie are creating waves in their respective markets. Launched in 2019 and early 2021 respectively both apps have in a short period of time caught the attention of discerning customers and industry stakeholders.

"YouFoodie was created out of an opportunity that arose during the lockdown period last year. Most delivery companies were facing constraints to do their normal deliveries and many individuals as well as food outlets contacted YouCab and inquired with regard to delivery options. We saw an opportunity to venture into the food delivery business and started YouFoodie. At the very beginning, in order to facilitate our customer requests, we decided to start a manual operation for food delivery even though we did not have an IT platform. In this day and age when everything is tech-based we developed the app from scratch taking into careful consideration the nuances in the industry," said Virtrans Capital Ltd. Group CEO Nirthaj Seelanatha.

YouFoodie is currently the cheapest food delivery service available in the market. The company has the lowest commission rate for merchants while the end user also enjoys low rates. YouFoodie also has other unique features like direct delivery for merchants and an exclusivity agreement for high-end restaurants that may not choose to operate with any other food delivery services. Furthermore, YouFoodie also allows its sister-company YouCab's travel partners to accept rides and delivery hires simultaneously.

YouCab on the other hand has also generated positive interest in its two-year stint so far. With its own 24/7 call center operated in Sri Lanka, YouCab has adopted stringent quality control methods that have differentiated them from other players in the market. Corporate hires have been one of the company's strong points with many companies using their services for staff transportation.

"We have a unique clientele who trusts us for our services and high standards. Our primary customer base are families who look for safety and reliability. Our brand is now recognised for reliability and we are now rapidly growing in the market with a very positive vibe attached to our brand," Seelanatha added.

Backed by more than two decades of experience, Seelanatha leads a young team of professionals who have navigated the unpredictable post-COVID era and geared themselves for the 'new normal'. Measures to safeguard employees and stakeholders, as well as the business at large, have been adopted with pandemic-specific policies and procedures being put in place. YouCab and YouFoodie have both been certified safe and secure by the authorities and also follow strict health and safety measures before, during and after rides and deliveries.

For more information call 0115 898989 or download the YouCab and YouFoodie apps from all

platforms.