Seated from left: Treasurer Sonali De Silva, Joint Secretary Zahra Cader, First Vice Chairperson Indrani Fernando, Chairperson Chathuri Ranasinghe, Second Vice Chairperson Illanga Karunaratne, Joint Secretary Ramani Ponnambalam and Assistant Treasurer Janaki Perera. Standing from left: Board members Samitha H. Perera, Ashanti Fernando, Anoji de Silva, Sarrah Sammoon Subathra Ramamoorthy, Nayana Karunaratne, Tehani Mathew and Gayani de Alwis
The premier chamber dedicated to supporting women entrepreneurs and professionals concluded their AGM on 24 September at the Galadari Hotel. Established in 1985, the organisation was the first women-only chamber led by a team of visionary women and today has grown in stature and contribution. The AGM was graced by several founder members, many past chairpersons, the board of management and members.

Ambassador for Netherlands in Sri Lanka Tanja Gonggrip was the Chief Guest. During her speech, she congratulated WCIC for their tireless efforts during the past 35 years, developing women's entrepreneurship and enabling them to contribute to the economic growth. She stressed the importance of Sustainable Developments Goals (SDG) and the need to tackle issues of poverty, inequality, climate change, clean water, biodiversity and education.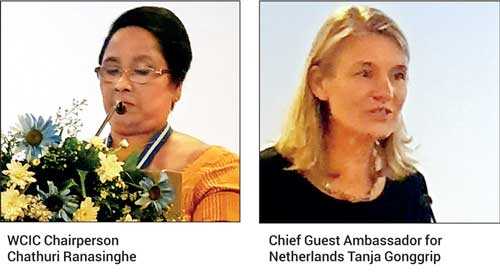 She went on to say that Sri Lanka is the second-most vulnerable country to climate change in the world. "You have a direct stake and I ask you to play your role and take responsibility in this endeavour. As professionals, you can help reaching these goals by being aware how your company or organisation can mitigate negative environmental effects, or even make a positive contribution, and how your company or organisation takes care of its employees and contributes to their wellbeing. In the short term this takes extra time, energy and often money, but in the long run this will pay off. A happy workforce is more productive, creative and dedicated. Saving energy and water will cut costs. Moreover, this is where the real long-term vision comes in – you will be a reliable partner to western companies and brands. If you show you are producing, manufacturing and doing business up to the SDG standards, then you can become the preferred sustainable choice for Dutch and other western trading partners and investors" she said.

Chathuri Ranasinghe was elected Chairperson for her third term, while Indrani Fernando and Illanga Karunaratne were elected as first and second Vice Chairpersons respectively. Joint Secretaries elected were Amani Ponnambalam and Zahra Cader, while Sonali De Silva and Janaki Perera were elected as Treasurer and Assistant Treasurer respectively. The other board members were Ashanti Fernando, Tehani Mathew, Gayani de Alwis, Nayana Karunaratne, Samitha H Perera, Sarrah Sammoon, Anoji de Silva and Subathra Ramamoorthy.

WCIC Chairperson Chathuri Ranasinghe stated, "We are a non-profit organisation of women in business and professions working together as a think-tank, a voice and a platform to economically empower the women of Sri Lanka, to be powerful nation builders by participating in transforming the economic growth of the nation." She touched on the extensive work conducted by WCIC and its members during the year under review, to facilitate extensive capacity building across Sri Lanka supporting many entrepreneurs.

Stressing on the plans for the future she stated, "We have embarked on a very important exercise with the support of all the stakeholders. We deliberated on our purpose of existence, validated our mission and vision statements, and included a set of core values. The most important part of this exercise was the creation of a Strategic Plan for the organisation, with clearly defined action, under five key pillars that will support our future journey. We are planning to create an even greater impact in society with what we do, and help women in general achieve their true potential as entrepreneurs and as professional business women."

She further stated, "Women need support in many areas, and we as the chamber that understands their needs want to champion this. We are also very keen to get the involvement of the many young entrepreneurs who are venturing into businesses using technology and innovative spirit. We invite them to join the Chamber to obtain the support provided. What we do and achieve is only possible because of the dedication and the commitment of our outstanding team of members, who are dedicated to taking this organisation to even greater heights during the year ahead."

The Women's Chamber of Industry and Commerce is the premier organisation supporting entrepreneurs and professional businesswomen. With a well-structured board of management and pillar teams and leaders with dedicated responsibility, the organisation focuses on achieving its detailed objectives with a clearly defined strategic plan, as well as a plan in to action. The membership is open to women who believe they can contribute to society as well as benefit from the many facilities the organisation creates.

For further information contact WCIC Administration Manager Janitha Stephen on 0773855340.