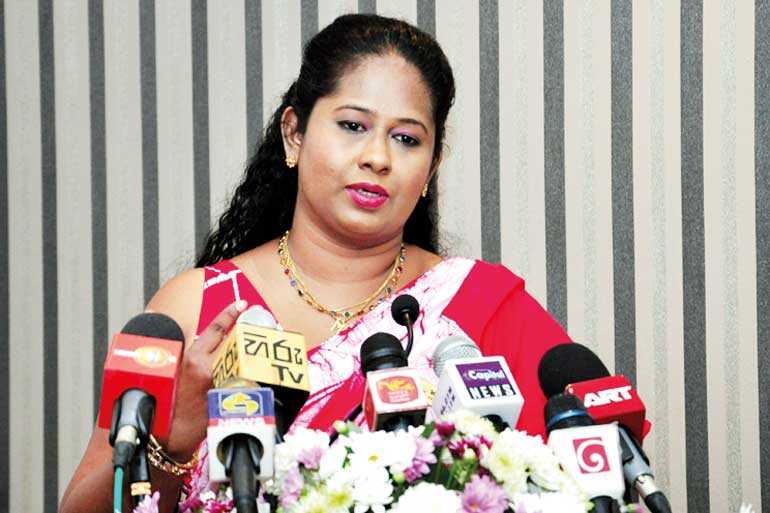 Founder - Chairperson Women in Management Dr. Sulochana Segera – Pic by Sameera Wijesinghe
One-day conference to be held on 4 December
33 speakers to share success stories
Open to Sri Lankans and foreigners
By Ruwandi Gamage
The 'Women Top 50' Professional and Career Women Annual Conference 2018 is geared to inspire women with motivating success stories of career women who have made their mark in the corporate world.

The one-day conference, to be held on 4 December from 8.30 a.m. till 5.30 p.m. at the Galle Face Hotel Colombo, is organised by Women in Management (WIM) under the theme "Price we pay for success" and is open to Sri Lankans and foreigners. With a line-up of 33 speakers, among whom will be former Justice Minister Thalatha Athukorala, Jetwing Travels Managing Director Shiromal Cooray, and SIMDI Group of Companies Maldives Dr. Maryam Shakeela as keynote speakers, the conference will hold eight sessions which will appeal to both men and women in the corporate world.

"Through this conference our aim is to focus on the positives. We want to talk about success stories of women in their career, life and womanhood. We hope the inspirational stories of how these speakers rose above hardships and succeeded will motivate others in the face of adversities," WIM Founder and Chairperson Dr. Sulochana Segera stated.

The conference is carrying topics such as 'The man who is not right', 'Their journey - having a successful career and being single; Is there an impact?', 'Live with intent - the messy journey of womanhood', 'Parenting if there was an app', '#MeToo: are we safe as women in our workplace', 'Second careers for women', 'Men in suits: how we see her' and 'Finding your way and your voice'.

Stating that the present 10% representation of women in the Police workforce is likely to produce a Woman Police Commissioner in 15 years, Traffic and Road Safety Deputy Inspector General Ajith Rohana, who will also be a speaker at the Top50 Conference, will speak about how women are perceived by men in higher career positions.

"Our history speaks for itself about women leadership, 1500 years ago. We had queens that ruled our country and who had done a very good. Our country produced the first female Prime Minister. Our country needs to produce more leaders and courageous women and they need to be given more opportunities to prove themselves," the DIG explained.

Speaker at the Women Top 50 Conference, Hemas Pharmaceuticals Diagnostics and Hemas Logistics and Maritime Cluster Managing Director Kasthuri Chellaraja Wilson made remarks that the conference will feature real women who will share real experiences to educate about how women can impact society and give back to society.

"We need more representation of women in the workforce helping the growth of our country's economy, to move towards economic equality," she added.