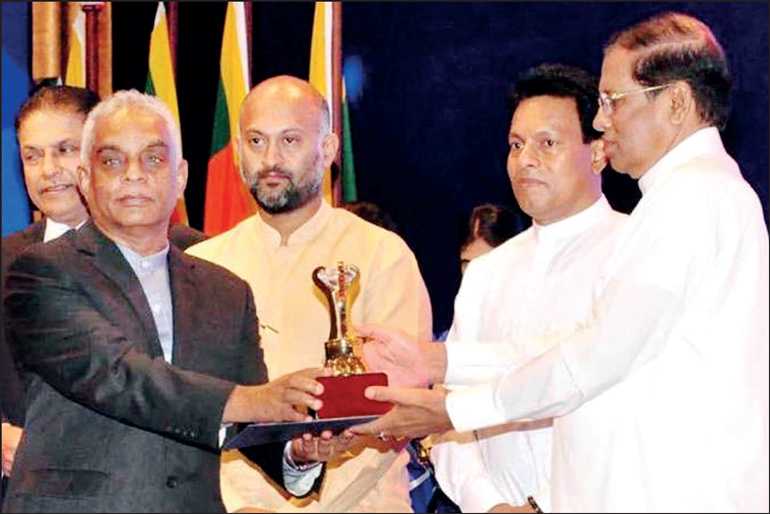 Wellawatta Nithyakalyani Jewellery Chief Executive Officer A.P. Jayarajah receiving an award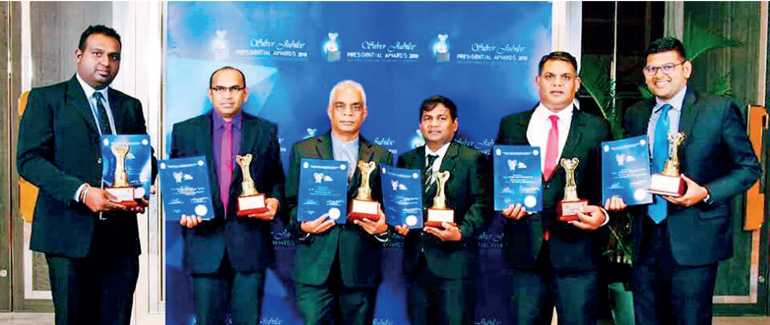 The winning team with six Presidential Awards
---
Wellawatta Nithya-kalyani Jewellery, a pioneer in the gem and jewellery trade in Sri Lanka, and NJ Exports, the export wing of Nithyakalyani Jewellery, were recently recognised with six Presidential Awards (Best Gold Jewellery Manufacturer, Best Jewellery Exporter, Best Diamond Jewellery Exporter, Best Foreign Exchange Earner, Best Gold Jewellery Technician – J. Sasikumaran, and Best Fashion Jewellery Technician – W. G. Darmasiri) at the Silver Jubilee Presidential Awards 2018 organised by the National Gem and Jewellery Authority of Sri Lanka.

The gala awards ceremony was held under the patronage of President Maithripala Sirisena at the Shangri-La, Colombo.

Wellawatta Nithyakalyani Jewellery has been a trusted jeweller in Sri Lanka for four decades through their commitment to quality and customer service. In addition to such local and international recognition, Nithyakalyani Jewellery (www.nithyakalyani.com) has also previously received the award for Global Commerce Excellence by the Central Bank of Sri Lanka in 2014 for its contribution to the country's economy. Notably, NJ Exports was recognised under the Jewellery sector for the years 2014 and 2015 at the Presidential Export Awards ceremony organised by the Sri Lanka Export Development Board.

A collection of over 25,000 jewellery designs attract customers who are keen on product quality and contemporary designs.

Nithyakalyani possesses an in-house factory where they manufacture platinum, gold, white gold, diamond and gemstone jewellery under the supervision of experienced, well-trained (local and overseas) craftsmen.

The technical advancement exemplified by approaches such as CAD, 3D printing to create life-like objects out of customer imagination has led to exports to many countries including Australia, UK, Canada, Switzerland, UAE and USA.

"We have worked as a team to secure this recognition and attribute our success to the trust our clients have in us," said Wellawatta Nithyakalyani Jewellery Chief Executive Officer A.P. Jayarajah, commenting on their recent accomplishment at the Presidential Awards.