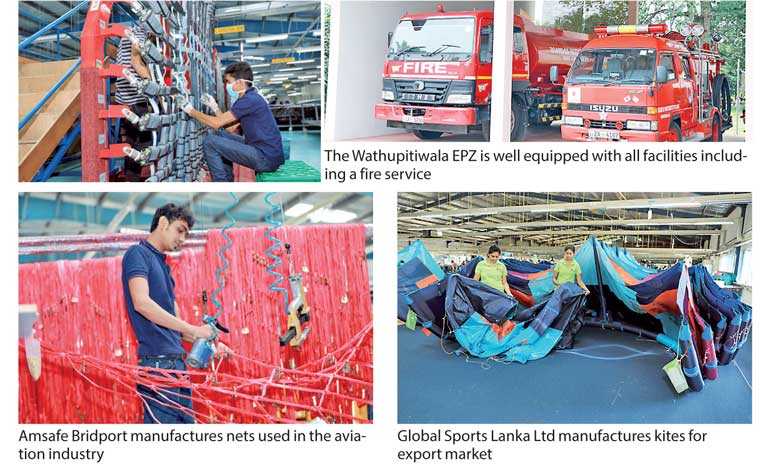 The BOI's Wathupitiwela Export Processing Zone (WEPZ) located in the North Central Province is an important industrial area which has contributed$ 25.6 million in export revenue as at the end of March 2018.

WEPZ is located in the Gampaha District, about 42 Km away from Colombo.It was established in 1998 on a land area of 123.17 acres of which 66.38 acres are industrial land. The infrastructure facilities at the zone include the provision of water, the processing of wastewater and electricity and making it attractive to investors.

The zone's enterprises have a significant impact on the local economy as they provide employment to 9,689people. In addition,the zone creates possibly three times that number of indirect employmentopportunities. The zone therefore promotes the Government's objective to develop regional industrialisation.

There are currently 17 enterprises in commercial operation at the Wathupitiwelazone involved in the manufacture of apparel, knitting, reconditioning, printing, coconut products, windsurfing kites, candles, marine foods, soya foods and electronic and electrical products.

AmSafeBridport is one of the prestigious enterprises at the Wathupitiwela EPZ which manufactures and designs highly engineered textile products for safety and protection.Their portfolio includes airframe restraints and barrier solutions, cargo handling and movement systems and protection for military armed vehicles. A strong team of nearly 450 employees design and produce cargo restraint equipment for most commercial airlines, airplane and helicopter manufacturers. AmSafe supplies the world's leading airline manufacturers, Airbus and Boeing.AmSafe was originally established in 2001 in the Wathupitiwela zone and has since been expanded.

Global Sports Lanka Ltd. is another pioneering company established in WEPZ in manufacturing kites. It produces kites with the highest quality materials using the latest technology and these products are tested according to the most stringent quality standards. These kites are distributed worldwide under industry-leading brand names. The Global Sports Lanka workforce of over 300 employees are employed in producing 20,000 kites annually. The Wathupitiwela Export Processing Zone is therefore a major contributor to the Sri Lankan economy in terms of investment, exports, employment and technology transfer.