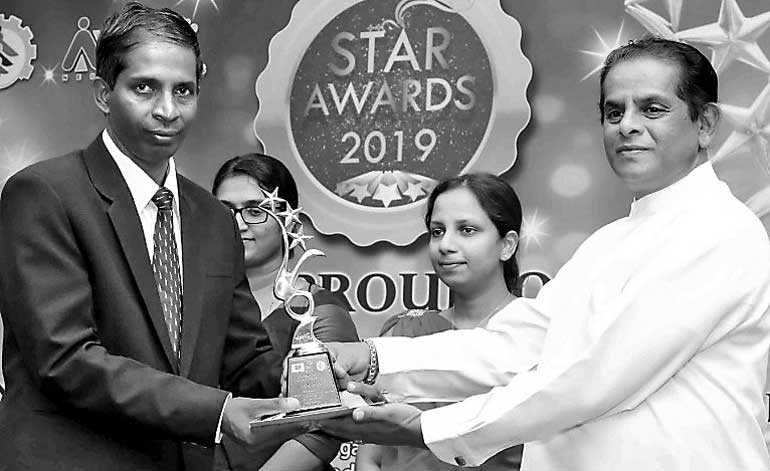 Watawala New Baby Products bagged the Three Star Award for Entrepreneurship Excellence in manufacturing sector, small category at State Star Awards 2019 organised by the Department of Industrial Development and Entrepreneurship Promotion of the Ministry of Industries of the Central Province. Dharmalingam Chandrakumar, proprietor of New Baby Products, received the award at the gala event graced by Central Province Governor Lalith U. Gamage and held recently in Kandy.

Born at Ginigathhena, Dharmalingam Chandrakumar completed his school education in his hometown and went to Colombo to work in a textile shop. Having worked there for 12 years and gained much experience in business affairs he returned to his hometown to open a baby product retail shop named 'Baby Care' in 2008. Swa Shakthi loan scheme was very helpful for him to make the capital investment. By 2016 he started manufacturing baby products at his upstairs with a single machine working by pedals. His workshop manufactured all necessities of pregnant mothers and infants branded New Baby.

Since all the products were high in quality demand grew day by day. Now in addition to Baby Care main showroom at Ginigathhena New Baby products are available in Hatton, Thalawakale, Bogawanthalawa, Nawalapitiya and many other shops in Nuwara Eliya district.

Dharmalingam Chandrakumar was thankful to the staff of small enterprise development branch at Nuwara Eliya of the Ministry of Youth Affairs for guidance given to him at the beginning of his business. Also he expressed his gratitude to Chrislies Institute, in Kandy, which helped him through European Union and Widulipura Samurdhi Society.

Chandrakumar engages in a number of social services including donating curtains to schools in his area and offering a pack of necessities to pregnant mothers in the estate sector. His ambition is to be the leader in child care products industry and create much more job opportunities.