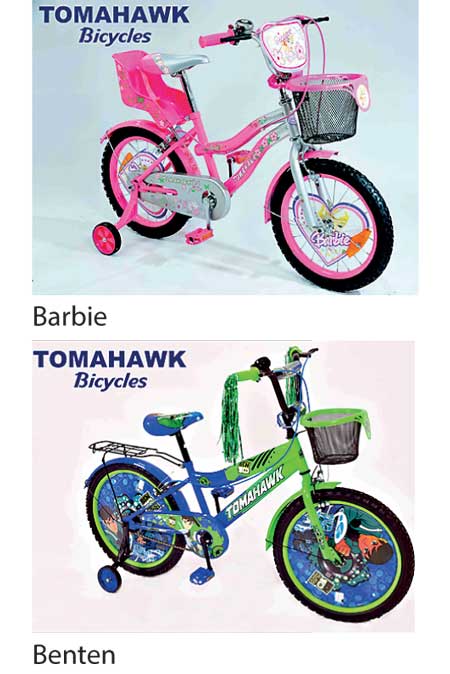 As one of the longest and most successful Cartoon Network original series to date, Ben 10 is an American animated TV series that has created a phenomenon around the world empowering strength to kids of all ages and gender. Barbie is a global icon inspiring girls to be whoever they want to be through their fantasy roles and abundant fashion and accessories; offering girls' choices to be made by their own; and to be a princess through endless storytelling possibilities.

Tomahawk is proud to be called Sri Lankan, and is the only company to be accredited as the sole agents and distributors of Ben 10 and Barbie bicycles in Sri Lanka and is known for having the exclusive licenses by Mattel Inc. USA and Warner brothers USA further proving the excellence of their bikes.

The collaboration is the first of its kind in Sri Lanka proving that Tomahawk has reached heights, which is why staying on top has been so easy for the company. Cycling has long been a way to enjoy oneself while staying healthy and fit. With Tomahawk Bikes this has become a safe and easy task. This faith in the goodness of their brand is the driving force behind the partnership Mattel Inc. USA and Warner brothers USA, which has helped make Tomahawk truly special. The company is also well known for the level of after care they provide for their bikes. Tomahawk has worked towards understanding and perfecting the prototypes for creating comfortable, durable bikes for kids and adults alike. The unparalleled level of expertise garnered by Tomahawk Bikes has made it stand above the rest as a trusted brand, providing countless children and adults with the wheels to pursue their happiness. Tomahawk Bikes is an affordable, trusted brand that is known to provide excellent quality and care in the world of bicycles.