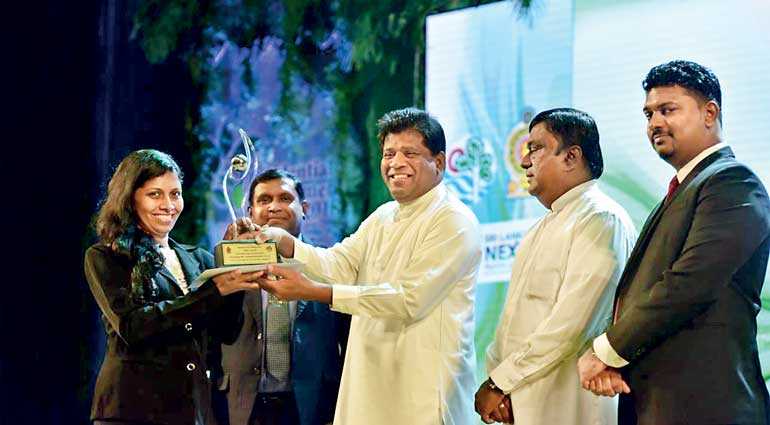 The Wembiyagoda Mini Hydro Power Project, a power plant owned and operated by Vidullanka PLC, was recognised with a Silver award at the Presidential Environmental Awards 2018 held on 19 October in recognition of the project's continuous commitment and contribution towards fostering green production processes and a culture of environmental sustainability.

The Presidential Environmental Awards is one of the most prestigious events organised annually by the Central Environmental Authority (CEA). It is held to recognise and reward industries, service sector organisations and individuals who have made a significant contribution to the field of environmental conservation and protection.

Acknowledging the award, Vidullanka PLC CEO Riyaz Sangani stated; "We are delighted that Vidullanka PLC has been recognised by the CEA to receive this prestigious award as it represents a strong endorsement of our environmental credentials. As a pioneer in the hydro power sector we have a huge responsibility and interest to foster a culture of environmental sustainability and protection. Hydro power is a renewable source of energy with zero emission of greenhouse gases, capable of being produced at a scale necessary to meet pressing energy demands with current technology. With heightened global concern about energy security and climate impacts, hydro power is extremely attractive."

He went on to further suggest that indigenous renewable energy is bringing in a sea of economic benefits by playing a major role through savings on the foreign exchange which otherwise would have been spent on crude oil used for thermal power generation.

Over the years, Vidullanka has received numerous awards for adherence to eco-friendly and superior productivity practices maintained by team. Furthermore, the company continues to showcase the company's sustainable development process contributing significantly to the power sector.

The organisation received Bronze awards in 2017 and 2016 for Wembiyagoda Mini Hydro Power Project and Ganthuna Mini Hydro Power Project also during the respective Presidential Environmental Awards ceremonies. Therefore, this is the third consecutive year in which company has been consistently recognised for its sound sustainability practices.

The Government of Sri Lanka is progressing towards building a green era to develop the economy. To achieve this objective there should be an active with the participation private institutions, organisations and the general public. This collective effort will result in a streamlining of the communication network and moreover, educating and empowering them on the importance of conserving and protecting the environment.