The crowds present at the Career Day program conducted in 2018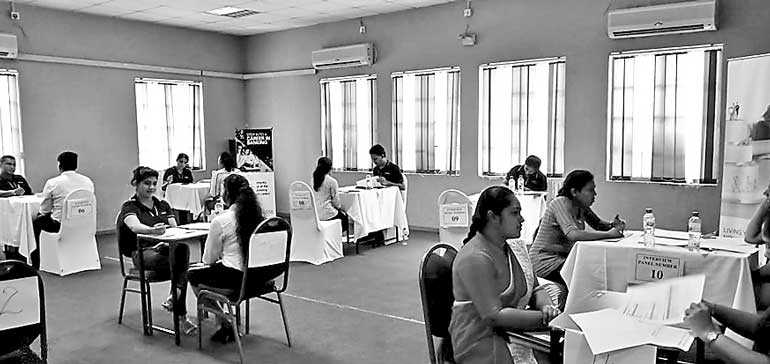 Interviews in progress – highlights from Career Day conducted in 2018
Union Bank will host 'UB Accelerate' with a view of providing career advice and opportunities to school leavers.

Often at the current times, Sri Lankan youth find themselves at crossroads attempting to figure out the ideal career option. Most school leavers are overwhelmed by the multiple diversities presented to them in terms of career and higher education. Union Bank in furtherance of its commitment to empower youth of the country, has initiated 'UB Accelerate' in a bid to provide suitable career advice to school leavers while providing job opportunities to start a career in banking.

Commenting on 'UB Accelerate', Union Bank Vice President – Human Resources Ravi Jayasekera said, "We often note that school leavers are not aware of career opportunities that exist in the Banking field or how they can build a successful career in banking. Through UB Accelerate, we want to fill this void by sharing the career opportunities and potential that exists in banking. Our aim is to genuinely help them accelerate their entry in to a successful career. In order to do this, we will conduct interviews on the same day at the event which will give the attendees an opportunity to join our growing team as Trainee Banking Assistants. The theme 'UB Accelerate' reflects both the rapid pace at which the Bank is growing as well as our stated commitment to support our staff to develop to their full potential. This program is an affirmation of our commitment to mentor Sri Lankan youth into becoming skilful young professionals."

From effective performance management systems and attractive rewards schemes to progressive career development and training opportunities, Union Bank provides its employees with the impetus to perform at their optimum and reap rewards.

The event scheduled to be held on Saturday, 12 January from 9 a.m. onwards at the 'Nawarangahala' – Royal College will offer participants the opportunity to embark on a career at one of the fastest growing banks in the country. The participants who wish to face interviews are advised to bring an updated CV and the National Identity Card.