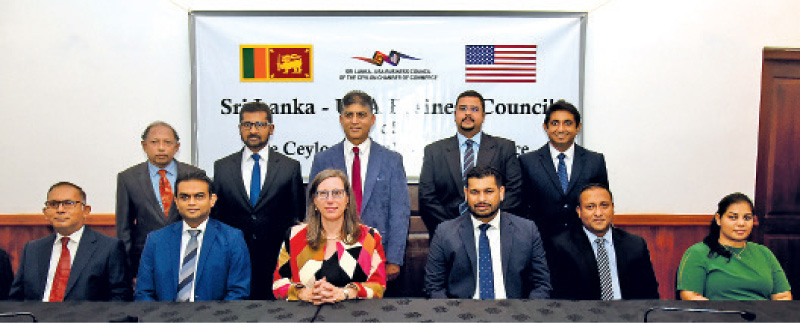 From left: Lanka Fruit and Vegetable Producers, Processors and Exporters Association Vice-Chairman Jagath Fernando, Spice Council of Sri Lanka Founder and Chairman Sarada De Silva, Coconut Milk Producers Association Chairman Suresh Silva, EDB Chairman and Chief Executive Suresh De Mel, and Moderator HVA Foods CEO/Executive Director Charithra Hettiarachchi
---
States pro-investment policies are welcome, but can't be thrown out as a new government comes
"It's no secret Sri Lankan economy is facing serious challenges. This is why my Government recommended that Sri Lanka engage constructively with the IMF early as possible": Ambassador Teplitz
EDB Chief encourages exporters to remit earnings and to obtain and utilise foreign financing
---
By Darshana Abayasingha
---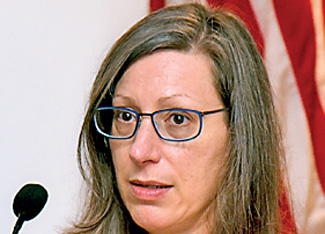 Chief Guest American Ambassador to Sri Lanka and the Maldives Alaina B. Teplitz
---
US Ambassador to Sri Lanka Alaina Teplitz recently remarked US investments in Sri Lanka over the past five years have remained "disappointingly constant and frankly disappointingly small".

She expressed the above views whilst addressing the fifth Annual General Meeting of the Sri Lanka – USA Business Council (SLUSABC) of the Ceylon Chamber of Commerce, held in Colombo.

Ambassador Teplitz lamented "the level of interest from investors in Sri Lanka has recently halved", noting it could be much higher. Often, interest hasn't translated into real deals and more of that should actually come to fruition. US foreign direct investment in Sri Lanka was $ 13 million in 2020, bringing cumulative investment in the country from the US to $ 274 million.

"I feel like it could be bigger. It's due primarily to concerns about consistency and transparency in government decision-making. Above all, investors really need visibility. So, pro-investment policies are welcome, but the playbook can't be thrown out every time a new government comes to power. Politicians, government leaders and industry need to come together around a shared vision for Sri Lanka's economic and political future and to implement a consistent strategy to realise this.

"We're willing and ready to collaborate to see more consistency going forward. I'm encouraged by the recent framework agreement between the American firm New Fortress Energy and the Government of Sri Lanka to negotiate a 40% stake in West Coast Energy, a renowned US company investing in this country's energy sector; it will send strong positive signals to the global investor community and bring much needed capital into the Sri Lankan economy," she noted.

The 5th AGM of the SLUSABC saw the reappointment of Dr. Asanka Ratnayake as President. Speaking during the event, Export Development Board Chairman Suresh De Mel, encouraged exporters to remit earnings to the country and provided assurance to exporters and investors they could still obtain and utilise foreign financing for projects in the country. He identified the need to amend policies to strengthen Sri Lanka's capital controls and enhance export potential and invited the private sector to work closer with government to formulate this process. The inclusion and engagement of the public, the private sector and investment agencies is critical for this process the participants noted, also to boost credibility, relevance and sustainability of such policy.

The United States remains Sri Lanka's largest single country export market and its contributions to Sri Lanka's prosperity are unparalleled, it was noted. The US has also committed significant resources to the US Development Finance Corporation, the US Trade Development Agency, USAID and other agencies to promote infrastructure and human capital development in Sri Lanka and throughout the Indo-Pacific region. In 2021, the Development Finance Corporation committed $ 265 million in financing to private Sri Lankan banks to ensure small businesses could access the capital to grow their vision.

Ambassador Teplitz added: "Perhaps the most important is our work with Sri Lanka to enact policies to strengthen its economy by avoiding non-transparent irresponsible government borrowing, and to assist Sri Lanka with managing financial institutions and public finances consistent with international best practices.

"It's no secret the Sri Lankan economy is facing serious challenges right now, and impromptu measures to sustain reserves and assure Sri Lanka meets its sovereign commitments are understandable. But a point is soon reached beyond which ad hoc measures will no longer work. This is why my Government has recommended that Sri Lanka, as a member country, engage constructively with the IMF as early as possible.

"There are no easy answers to the challenges facing Sri Lanka, but there's an opportunity to retool and build back better as our President Biden said. We're committed to providing technical assistance and expertise through our US Treasury Department to facilitate discussions about the best path forward. And we can support international experts on a range of topics from procurement to environmental policies to best financial practices and beyond."

The US Ambassador noted it is a foremost priority for her and her successor to increase opportunities for US firms to engage in Sri Lanka, be it for exports of goods and services or investments.

"This must happen in an environment of sustainable and inclusive economic growth; one that empowers the broader population to engage with government decision-makers during the policy development stage," she said.

"Achieving inclusive economic growth is difficult at the best of times but it can be harder in the context of this unrelenting pandemic. We look forward to continuing our discussions on these and other priorities and on how we can work together to build a stronger Sri Lanka and a stronger relationship between our countries. The United States remains committed to supporting a secure and prosperous Sri Lanka.

"We'll always be a willing partner insofar as the government and the people of Sri Lanka remain committed to democratic values and norms we share. National reconciliation will require institutional framework to succeed and a reconciled Sri Lanka can overcome disunity and achieve broad-based equitable economic growth," she said.
Pix by Ruwan Walpola