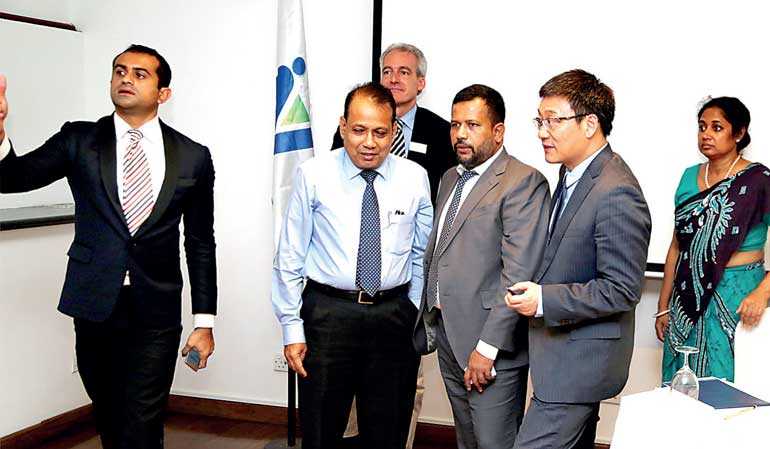 Industry and Commerce Minister Rishad Bathiudeen (fourth from left) at the closure of pioneering UNESCO-APEID meeting in South Asia on 12 October at JAIC Hilton Colombo, joined by NEDA Chairman-Director General of Dakshitha Bogollagama (far left), visiting MIT Club Germany VP Prof. Dr. Richard C Geibel (third from left), visiting UNESCO Educational Innovation and Skills Development Section Chief (Bangkok Office) Libing Wang (second from right), and UNESCO Bangkok Focal Point in Sri Lanka Himali Jinadasa (far right)
Global declaration in Colombo, a first for post-war Eastern Province
'Declaration for Entrepreneur Education & related Best Practices'-Rishad
Joined by entrepreneur experts from 21 countries
The initial draft of the pioneering international declaration on Entrepreneur Education (EE), announced on 12 October in Colombo, is to be finalised sooner than previously expected.

"Given the importance of SMEs in our economy, we recently concluded the first UNESCO-APEID event in Sri Lanka, which was also the first in South Asia. It serves the reform vision of Unity government to link our SMEs to global markets," said Industry and Commerce Minister Rishad Bathiudeen on 22 October. Minister Bathiudeen was addressing the special presentation event on the validation session of the second draft report 'Legal and Institutional Study for Creating Enabling Environment for SMEs', commissioned by the Ministry of Industry and Commerce, on 22 October at BMICH.

The pioneering Entrepreneurship Education (EE) series by UNESCO-APEID, held for the first time in South Asia, successfully concluded in Colombo on 12 October. The event, seventh in the global series, was launched in Trincomalee on 9 October, with the participation of delegates from 21 countries. It resulted in a landmark international declaration that was made by participating international delegates, and has now become a key initiative in global Entrepreneur Education (EE) reforms. The Declaration, once adopted by participants, shall introduce best practices in EE, as well as introduce EE to secondary, tertiary and TVET global curricula for the first time. "NEDA has successfully concluded South Asia's first UNESCO-APEID event in Sri Lanka on 12 October, resulting in the "Trincomalee Declaration on Entrepreneur Education" which is global in scope. I am pleased to say the first draft of this Declaration is to be made available within the next three weeks' time. We believe we lack in good EE, and there is a need to learn from international best practices as well," said Minister Bathiudeen.

At the 12 October event, NEDA Chairman-Director General Dakshitha Bogollagama said: "This Declaration is also seen as a 'historic first' in the post-war Eastern Province, elevating the Province' prominence globally, and enhancing its economic profile."

The seventh UNESCO-APEID Sri Lanka series also elevated Sri Lanka as the newest Chair of the prestigious UNESCO-APEID EE series - making it the first South Asian country to clinch this Chair - and as a result, Sri Lanka will lead the meeting series, until Hong Kong or Brunei takes over later on. NEDA, Sri Lanka's apex entrepreneur development agency under the Ministry of Industry and Commerce, aims to develop the Lankan economy by encouraging, promoting, and facilitating budding Lankan start-ups, entrepreneurs and SMEs.