CMA National Management Accounting Conference and Commonwealth Accountant Conference Session 4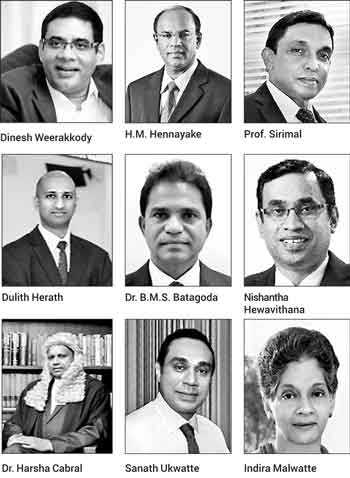 This year CMA Sri Lanka will be celebrating its 20th anniversary with the inauguration of the Conference Technical Sessions which will be on 10 September.

The theme of the conference is 'Sustainability Development Goals Agenda 2030 – The Role of Professional Accountants'.

The fourth Technical Session CMA National Management Accounting Conference 2019 and Commonwealth Accountants Conference on 9 and 10 September will be a panel discussion on the theme 'Towards Sustainable Business 2030'.

The Chairman/Moderator of the session will be Dinesh Weerakkody who is the Chairman of Hatton National Bank PLC, the International Chamber of Commerce Sri Lanka, the National Human Resource Development Council of Sri Lanka, Cornucopia Sri Lanka. The session will be Co-Chaired by H.M. Hennayake Bandara, Vice President of CMASL and former General Manager/CEO of National Savings Bank, Director NSB fund Management Company Ltd.

Prof. Sirimal Abeyratne will discuss on the topic 'Strengthen Domestic Financial Institutions to Encourage and Expand Access to Banking, Insurance and Financial Services'. He is Professor in Economics attached to Colombo University and earned his PhD from Free University of Amsterdam, MA and MPhil degrees from International Institute of Social Studies, The Hague, and Bachelor's degree from University of Colombo.

Dulith Herath will discuss on the topic 'Emerging Technologies Driving A Nation Towards Sustainable Economic Development'. He is a well-known, highly successful Sri Lankan serial entrepreneur. He is known as the King of E-commerce in Sri Lanka as is the Founder and Chairman of Sri Lanka's largest e-commerce organisation, Kapruka.com. Dr. B.M.S. Batagoda will discuss the topic 'Ensure universal access to affordable, reliable, clean and modern energy services and pricing for the energy industry'. He has a Ph.D. in Environmental Science from University of East Anglia, UK is currently the Secretary of the Ministry of Power and Renewable Energy. He is a Fulbright scholar as well as a Commonwealth scholar. Indira Malwatte will discuss the topic 'Significantly Increase the Exports with a View to Double the Exports by 2020'. She is holding a Combined Degree in Economics and Geography from the University of Peradeniya Sri Lanka is the first woman Chairperson of the EDB.

Sanath Ukwatte will discuss on 'Achieve Sustainable Tourism, Create Jobs, And Promote Local Culture and Products Together With Business'. He is the Chairman and Managing Director of Mount Lavinia Hotel Group, owning company of Mount Lavinia Hotel, Club Bentota formally known as Robinson Club in Sri Lanka and Vakarufalhi Island Resorts in Maldives.

Dr. Harsha Cabral will discuss the topic, 'Good Governance for Sustainable Business Success'. He is a President's Counsel in Sri Lanka with 31 years' experience in the field of Company Law, Intellectual Property Law, Commercial Law, Securities Laws, and International Trade Law and Commercial Arbitration. He has been a President's Counsel for fourteen years and commands an extensive practice in the Commercial High Courts and the Supreme Courts of Sri Lanka.

Nishantha Hewavithana will discuss the topic, 'Economic Social Environment Reporting for Public Quoted Companies'. He is attached to the Colombo Stock Exchange (CSE) in the capacity of Head of Research and New Products division. He joined the CSE in 2011 and holds over 18 years of experience in social, finance and academic research as a practitioner and an academia.

The conference is specially meant for Directors, CEOs, Management and Financial Accountants, Managers and Executives in Marketing, IT, Human Resource, Banking, Finance, Insurance, key management of state owned enterprises and government, lecturers of universities, technical colleges, professionals and others in industry, commerce, non-profit institutions and professional bodies.

Those interested to register for the CMA National Management Accounting Conference and Commonwealth Accountants Conference please contact Shanthi on 071 470 5536 or email: registrations@cma-srilanka.org for special conference rates applicable to those applying on or before 31 August.