Named Asia's best destination for wildlife tourism at Top Asia Corporate ball 2019
Selected for the 20 best places to visit in 2020 by CNN Travel
The New Year 2020 kicked off with a fresh start and good vibes for Sri Lanka, for the island destination bagged its first award of the year, as Asia's best destination for wildlife tourism at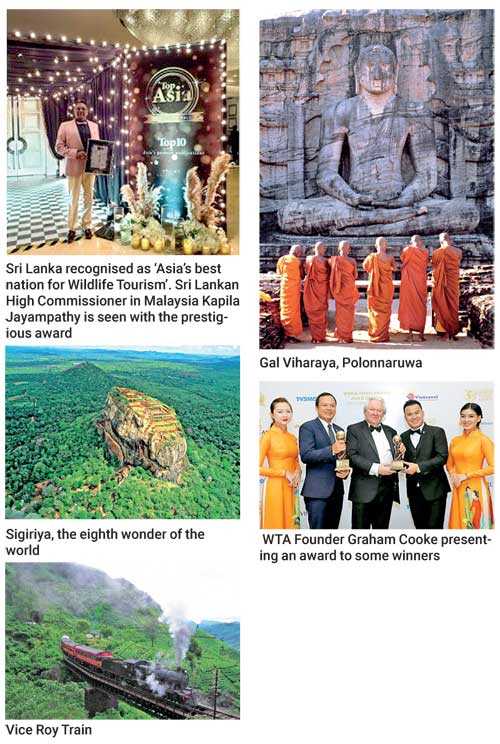 Top Asia Corporate ball 2019, which was held in Shangri-La Hotel, Kuala Lumpur, Malaysia. Sri Lanka was ranked first for the category of 'Asia's Best Nation for Wildlife Tourism', from a survey conducted on Asian countries and out of five shortlisted countries, selected by Top 10 Asia's premier publications.

High Commissioner of Sri Lanka in Malaysia Kapila Jayampathy represented Sri Lanka to receive this special honour amidst an audience of distinguished guests, including leading Malaysian CEOs and personalities from 20 Asian countries. The event was organised by RHS Media, which is the publisher for the premier business, people and lifestyle magazines, Top 10 of Malaysia and Top 10 of Asia.

Adding another feather to Sri Lanka's cap, CNN Travel included Sri Lanka along with 19 countries as '20 best places to visit' for 2020. According to CNN Travel's 20 places to visit in 2020, the list includes Chile Lake District, Copenhagen, Denmark, The Dead Sea, Dominica, Estonia, Galway, Ireland, Jamaica, Kazakhstan, Kyushu Japan, New Caledonia, Parity and Ilha Grande, Brazil, São Tomé and Príncipe, St. Petersburg, Russia, Sri Lanka, Tunisia, Vancouver Island, British Colombia, Washington, D.C., Wuppertal, Germany, Wyoming and Zambia.

A part of CNN's quote on Sri Lanka was read as, "The South Asian island nation of Sri Lanka is as ancient as it is beautiful; as complex a civilisation now as at any time in its 2,000-year history. Despite recent tumult (the horrific terror attacks last Easter), Sri Lanka remains an essential destination, an epicentre of history, with relics and ruins, temples and palaces, wildlife running free.

"Sitting in the Indian Ocean off the southeastern tip of India, travellers may default to thinking of Sri Lanka as a beach getaway. But to truly immerse yourself in the country's history, go inland and tour the country's cultural triangle.

Start in the ancient city of Polonnaruwa, which was the country's capital in the 12th century. "This UNESCO Heritage site is comprised of the ruins of Buddhist temples and dagobas (dome-shaped shrines) and is frequented by Buddhist monks in orange robes.

A little over an hour to the west by car is the rock fortress, Sigiriya. Sometimes referred to as the 'Eighth Wonder of the World', this ancient volcanic formation that soars over 200 meters (656 feet) high was developed into a palace fortress in the latter half of the 5th century. Another UNESCO World Heritage site, Sigiriya is one of the most-visited landmarks in Sri Lanka."

Going back to a recap of 2019, Sri Lanka was able to receive several international endorsements, including emerging as the winner of "Asia's Leading Adventure Tourism Destination" and "Asia's Leading Emerging Tourism Destination – Colombo", at the World Travel Awards which was held at the Vinepearl Convention Center in PhuQuoc, Vietnam, for the 26th consecutive year, amidst a large number of travel and leisure industry stakeholders, and tourism officials from all across the globe.

Sri Lanka was nominated among the first six Asian countries for solo female travellers by Lonely Planet. According to Sofia Levin, who writes for the Lonely Planet magazine, "You could spend a few days in Colombo, but for a more peaceful environment, head for the hills. Nuwara Eliya is Sri Lanka's tea country with verdant, rolling hills and fresh air, but I preferred the smaller, laid back town of Ella." Sri Lanka was given this recognition along with several other countries including Singapore, Hoi an, Vietnam, Flores, Indonesia, Tokyo, Japan, Istanbul, Turkey, South Korea and the Philippines.

Sri Lanka is recognised among tourists as a destination which has so much to explore, having the easy accessibility of travelling to all locations within one day, exclusive beaches, and the friendly and hospitable nature of its inhabitants. These characteristics of Sri Lanka are the key factors which draw tourists to the destination, and these achievements received at the beginning of the new year, will further encourage more tourist arrivals to explore the uniqueness of the 'Pearl of the Indian Ocean' this year.