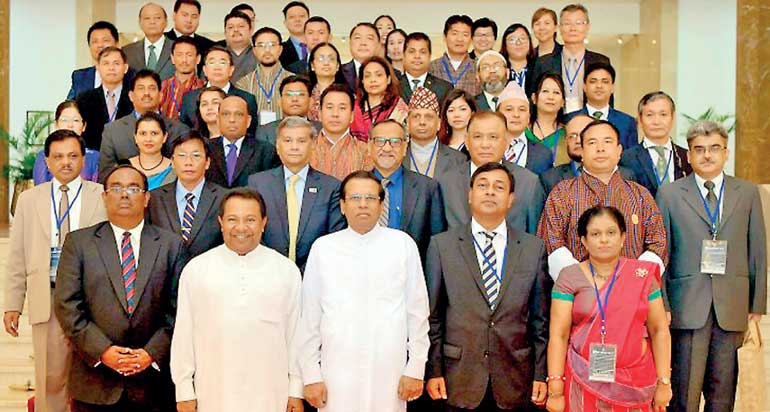 The Third Ministerial Meeting of the Bay of Bengal Initiative for Multi-Sectoral Technical and Economic Cooperation (BIMSTEC) commenced under the patronage of President Maithripala Sirisena yesterday.

Delegates from BIMSTEC member states - Bangladesh, Bhutan, India, Myanmar, Nepal, Sri Lanka and Thailand - are attending this meeting.

Addressing the meeting, President Sirisena said that a strong cooperation program was needed to eradicate poverty in the region and to promote prosperity. The President emphasised the need for a commitment by everyone to eradicate poverty from human society, not just in the region, and recalled that the responsibility lies with the world's powerful nations to ensure that no one will starve in the world.

President Sirisena said that Sri Lanka's poverty alleviation program was implemented this year and parallel to this the year 2018 was declared National Food Production Year.

The President said that he is pleased to hold this event in Sri Lanka at a time when the BIMSTEC region is becoming an important player in international geopolitics.

The President also emphasised the persistence necessary to achieve the goals of the region in achieving the goal of BIMSTEC.

Representatives, including the State Minister of Finance and Planning of Bangladesh Muhammad Abdul Mannan, Bhutan's Minister of Finance Lyonpo Namgay Dorji, Myanmar's Deputy Minister of Agriculture, Livestock and Irrigation and the Minister of Internal Affairs of Thailand attended the meeting. Minister of Social Empowerment, Welfare and Kandyan Heritage S.B. Dissanayake, Secretary to the Ministry Sriyani Weerakoon and others were present at the occasion.