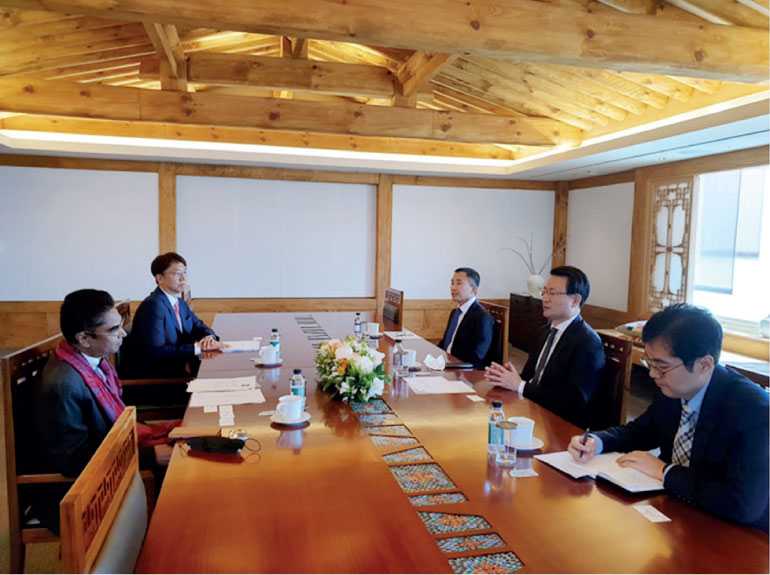 President/CEO Jeong Joon Yu and Members of the Board of Directors of SK E&S Group discussing their investment and FDI priority sectors in Sri Lanka with Ambassador of Sri Lanka Dr. A. Saj U. Mendis at the Corporate Head Office in Seoul
---
The Ambassador of Sri Lanka to the Republic of Korea Dr. A. Saj U. Mendis met with the top-most management of SK Group, third largest conglomerate (Chaebol) in South Korea, to discuss investment and FDI with regard to Sri Lanka. In this context, Dr. Mendis met with the President and CEO of SK E&S Co. Ltd. Jeong Joon Yu as well as the members of the Board of Directors at the Corporate Head Office of SK Group in Seoul, recently.

The SK Group is one of the largest corporates in the world in terms of revenue and market capitalisation. In 2019, the revenue of the SK Group was $ 220 billion and the market cap was close to $ 280 billion, thus making the SK Group amongst the 25 largest corporates in the world. The company has 95 subsidiary companies and employs over 70,000 across the world. The SK Group has a stellar global reputation in businesses such as chemical, petroleum, energy, wireless mobile services, financial services, telecommunication, construction, shipping and semiconductors, amongst others.

The discussion with the CEO and Board of Directors of SK E&S focused on, amongst others, an LNG project to be established on Build-Own-Operate-Transfer (BOOT) in Sri Lanka for supplying of LNG at a total cost of $ 600 million. During the discussion with Ambassador Dr. Mendis, the technical experts stated that the proposed project would be able to supply LNG to 930 MW power plants in Sri Lanka. Further, the proposed mega project would create semi-skilled and skilled employment to nearly a 1,000 Sri Lankan nationals. The aforementioned project has been discussed and deliberated with the relevant authorities in Sri Lanka and is awaiting for due approvals. The CEO and Board of Directors of SK E&S further stated to Dr. Mendis that the SK Group is keen and eager to commit more investments in Sri Lanka, particularly, in sectors such as IT and ITES, construction and telecommunication, amongst others.

Ambassador Dr. Mendis stated that a strong and convincing presence of a corporate in the calibre of SK Group in Sri Lanka would emanate a positive sentiment and message to the international corporates and investors of the potentiality of Sri Lanka. Dr. Mendis also stated that the equity (stock) market of Sri Lanka known as Colombo Stock Exchange (CSE) too is highly attractive to woo foreign institutional investments (FII) since the Price Earning (P/E) Ratio of the CSE is 10.8. Any equity market having a P/E ratio of less than 15 with a vibrant and diversified economy would be highly desirable and financially sanguine for any large scale institutional investor, particularly, foreign investors and private equity (PE) firms. The top most management of SK E&S paid due heed to the economic and investment vistas of Sri Lanka and added that they would look at Sri Lanka positively and favourably. On a separate note, Dr. Mendis stated that recently the largest Commercial Bank in the Republic of Korea, KB Financial Group of Kookmin Bank, committed a mega investment in highly reputed and diversified "Blue Chip" Corporate of LOLC Group of Sri Lanka.