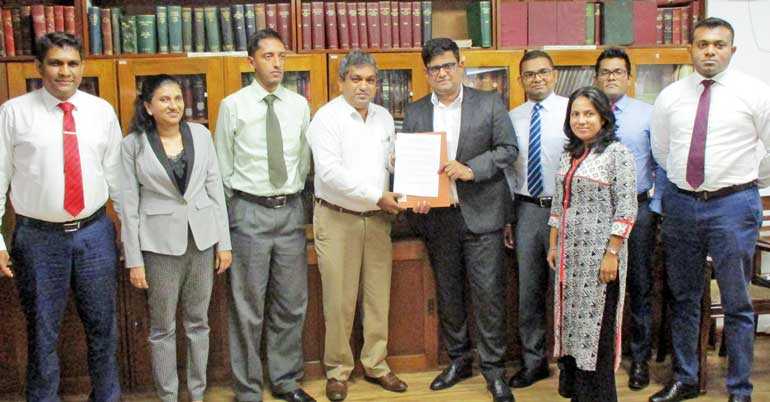 The two CEOs, the Manager of the Training Centre, a trainee, Head of HR and officers from Airtel
---
The Employers' Network on Disability affiliated to the Employers' Federation of Ceylon (EFC) has enabled several opportunities in the world of work for youth with disabilities. This year, many employment opportunities, internships and training have been provided through several EFC member companies and other EFC-associated affiliations including several government bodies.

The Employers' Network on Disability was launched nearly 20 years ago with support from the ILO to facilitate employment and training opportunities in the private sector for job seekers with disabilities. Today the Network which has expanded with many success stories to its credit, acts as a link between the business community and organizations dealing with disability issues to facilitate mainstreaming its work.

Under its job placement arm, what the Network strives is to secure 'long term job security' says the Manager, the Training and Disability Resource Centre of the Network, Manique Gunaratne. An internationally recognised activist for people with disabilities, Gunaratne steers the Network as a brand ambassador. "The Training and Disability Resource Centre helps to bridge the gap between people without jobs and jobs without people," she says.

"Opportunities are plenty in the private sector and we encourage youth with disabilities to seek the guidance of the EFC as we strongly believe that no one should be left behind. It is also time that we eliminated terms such as 'drop outs," said EFC Director General Kanishka Weerasinghe, following the signing of an MOU between the EFC and Airtel Sri Lanka last week in securing job placements and trainings for job seekers with disabilities mentored by the Training and Disability Resource Centre.

Applauding Airtel Sri Lanka for coming forward to offer in-house training to partially-visually impaired Rajinda Ekanayake who was trained at the Training and Disability Resource Centre, EFC's DG urged Airtel Lanka to make the good practice a long term commitment and thereby champion inclusivity at work place.

Endorsing EFC Chief's observations, Airtel Sri Lanka CEO Jinesh Hegde remarked that the gesture was aligned with his organisation's commitment to empowering the youth in Sri Lanka. Adding that young job seekers with disabilities can add immense value to an organisation, Airtel Sri Lanka's CEO went on to note that they can contribute to the growth of a workplace like any other counterpart.

Encouraging parents to identify the special talents of their children despite disabilities, and nurture them through the assistance of platforms such as The Employers' Network on Disability, the EFC's DG also alluded to recent initiatives by the EFC including partnerships made possible with State universities and other collectives committed to those with disabilities and moves such as the 'Junior Achievers' initiated by the Policy Development Unit of the Prime Minister's Office.