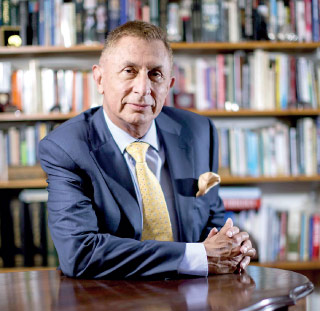 Keynote speaker Prof. Andrew Kakabadse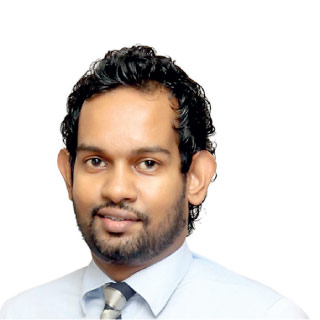 SLTC Masters Corporate Education Head Nuwan Dishan
Masters Corporate Education, the corporate education arm of the Sri Lanka Technological Campus (SLTC), launched its flagship program for top corporate directors, titled 'The Directors Program – Insights to Inspire', almost doubling its estimated attendee number prior to its launch.

Set within an international context, offering practical and tested frameworks and tools to sharpen judgment and decision-making skills, while augmenting the oversight abilities of directors seeking to boost their existing competencies and be better prepared for new board mandates, the program has six core pillars, comprising of value creation, governance, digital transformation, leadership, growth and collaboration and strategic drive.

Each of the modules are built to master strategies on the purpose for Boards, strategies for Modern Boards, Board effectiveness and dynamics; Board decision-making and oversight; director effectiveness and development, determining the competitive advantages of organisations, and developing the skills and knowledge necessary to facilitate others to fulfil both their individual and collective potential. It also offers key insights to inspire, through an esteemed roster of internationally renowned faculty members.

The initial session kicked off by examining the topic of 'Becoming a World-Class Board Member' with insights given by Prof. Andrew Kakabadse, one of the world's leading experts on top teams, boardroom effectiveness and governance. Prof Andrew has consulted for the British, Irish, Australian, Omani, UAE and Saudi Arabian governments, Citi, Bank of America, BMW, Ford, British Airways, Lufthansa, Swedish Post, KPMG, Bank of Ireland, and numerous other organisations and has acted as an advisor to several UN agencies and the World Bank. He is listed in Who's Who and is a life member of the Thinkers 50 Hall of Fame.

Prof. Andrew Kakabadse explored governance and the engagement of boards in order to ensure the resolution of key issues, improving trust, and promoting resilience. Given the challenges of the pandemic in force, clear communication within an organisation was highlighted as a critical aspect for the corporate governance structure to succeed. "Good governance assures rapid access to information and good communication leads to better results, which, together, enables rapid and accurate prioritising of actions, that is invaluable in enabling the organisation to weather tough economic storms and ensuring sustainability," he said.

He added that the new normal requires continuous shifts in people, process and technology and that new skills with the ability to harness culture and diversity of thinking to strategy has emerged as a key competitive discipline.

"An organisation needs to have people engaged and aligned, where diversity of thinking is the glue that creates a common culture which encourages adaptive advantages. The best-led organisations have their eyes open to opportunities, ideas, and perspectives. Evidence and reality checking are a vital part of building the organisational coalitions and momentum required to succeed and overcome obstacles in the current context," he said.

Prof. Kakabadse also spoke on how the most successful companies were disciplined about stewardship, regardless of the sectors and countries they functioned in. He cited seven key disciplines a company must focus on that included: evidence, mission, alignment, engagement, leadership, governance and wisdom.

The session concluded with two important questions posed for the participants: 'What is your mindset to strategy?' and 'how do you go about engaging?', followed by a Q&A session, where Prof. Kakabadse engaged with the attendees.

SLTC Masters Corporate Education Head Nuwan Dishan stated: "We are overjoyed by the positive response we received for this program. The participants were fully engaged during the session and were able to receive incredible insights into the field of corporate governance from Prof. Kakabadse, who is truly a master of his craft. I am certain that throughout the rest of this course, our participants will be able to gain more unique insights and perspectives in terms of decision-making, trust-building and leadership from our incredible faculty line-up."

This is the first in the series of such programs that Masters Corporate Education will be bringing to assist the boards of Sri Lankan businesses to help them navigate this challenging period successfully.