9MFY20 Highlights
Consolidated revenue of Rs. 15.8 b, a decrease of 4.9% YoY
PAT amounted to Rs. 1.7 b, up 32.3% YoY, boosted by the gain on sale of tea plantations
Healthcare revenue up 20.5% YoY to Rs. 8.2 b
Consumer Goods revenue contracted 2.9% YoY to Rs 4.2 b
Agri revenue contracted 40.2% YoY to Rs 3.1 b
EPS grew 40% YoY to Rs. 6.81
Boosted by the divestment of its tea plantations, diversified conglomerate Sunshine Holdings PLC has reported notable growth in bottom-line performances during the first nine months of the current financial year (9MFY20). During this period, the Group posted a consolidated revenue of Rs. 15.8 billion, delivering a 32.3% Year-on-Year (YoY) increase in Profits After Tax (PAT).

Group's top-line performance saw a decline in growth by 4.9% YoY, mainly due to the sale of the tea plantation business represented by Hatton Plantations PLC (HPL) during the first quarter as well as the revenue contraction of Group's consumer goods and energy sectors.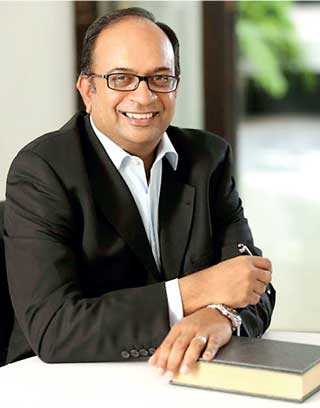 Sunshine Holdings Group Managing Director Vish Govindasamy
Group's healthcare business emerged as the largest contributor to Sunshine's top-line performance, accounting for 50% of total revenue, while consumer and agribusiness sectors of the Group contributed 26% and 19%, respectively, of the total revenue.

PAT for the period in review rose to Rs. 1.7 billion, which include a one-off gain from the sale of HPL, which amounted to Rs. 343 million. The strong results were carried through to the Group's PAT and Minority Interest (PATMI) which grew by 46.1% YoY to Rs. 1 billion. Group's healthcare and agribusiness sectors were significant contributors to PATMI.

Commenting about the Group's performance, Sunshine Holdings Group Managing Director Vish Govindsamy stated: "The notable growth in our bottom line is attributable to the strong contributions from the healthcare arm and Group's execution of well-articulated strategies amidst tough market conditions that impacted all our business sectors. Due to the divestment of the Group's tea plantation business, the agribusiness sector experienced a decline in revenue growth while the Group's consumer goods sector also saw a contraction in revenue due to market disruptions. However, it is noteworthy to mention that the healthcare sector is continuing its strong revenue growth momentum from last year

As the largest contributor to Group revenue, Sunshine Healthcare grew its revenue by a 20.5% YoY to Rs. 8.2 billion on the back of pharma and medical devices sub-sectors.

"In Healthcare, we expect strong growth for 4QFY20, especially in the medical devices and pharma sub-divisions. We are closely monitoring the changes in the exchange rate, which is sensitive to our margins. The sector will continue to focus on improving the product range and service quality. New price controls by the regulator remains a key risk for the profitability of the sector. We also expect Healthguard's flagship store at One Galle Face to contribute towards during 4QFY20," Govindasamy further added.

Sunshine's Consumer brands – spearheaded by premium brands like 'Zesta' and 'Watawala Tea' – recorded revenues of Rs. 4.2 billion during the period in review, down 2.9% YoY. The decrease was mainly due to market disruptions during 1QFY20.

According to Govindasamy, the consumer business would continue to invest behind its brands to scale the domestic businesses. "The business will have a challenging fourth quarter due to price cuts taken in-line with the competition. We are also continuing to strengthen our international business operation efficiency."

The Group's agribusiness sector, led by Watawala Plantations PLC (WATA) and HPL, recorded revenue decline by 40.2% YoY to Rs. 3.1 billion due to the divestment of HPL. However, the palm oil segment together with dairy recorded an 11.4% YoY growth mainly due to better performance of the palm oil sector driven by the shift in palm oil yield curve. Palm oil production was at 9.9 million kg for the 9MFY20, which was 11% higher than the same period last year.

In Agribusiness, the Group expects to see moderate growth in volumes for the palm oil segment due to the shift in yield curve while prices are expected to be stable in the short-term.

The dairy subsector has reached a total of 881 milking cows, and the total number of animals stands at 1,420. Govindasamy noted that the Group expects to rationalise the feed cost further and increase selling prices due to higher demand.

Revenue of the group's renewable energy business amounted to Rs. 255 million in 1HFY20, down 18.1% YoY for 9MFY19, as a result of lower rainfall in the catchment areas coupled with plant maintenance activities. In the renewable energy segment, Group will continue to focus on expanding their production capacity via the rooftop solar project.

Sunshine Holdings is a diversified holding company contributing to 'nation-building' by creating value in vital sectors of the Sri Lankan economy – including healthcare, agribusiness, fast-moving consumer goods and renewable energy. The business units comprise of Sunshine Healthcare Lanka Ltd., WATA, Watawala Tea Ceylon Ltd., and Sunshine Energy Ltd. which are leaders in their respective sectors, have secured partnerships with top global brands and have won prestigious awards at the national as well as the regional level. The leading brands of the group include Zesta, Healthguard and Watawala Tea.