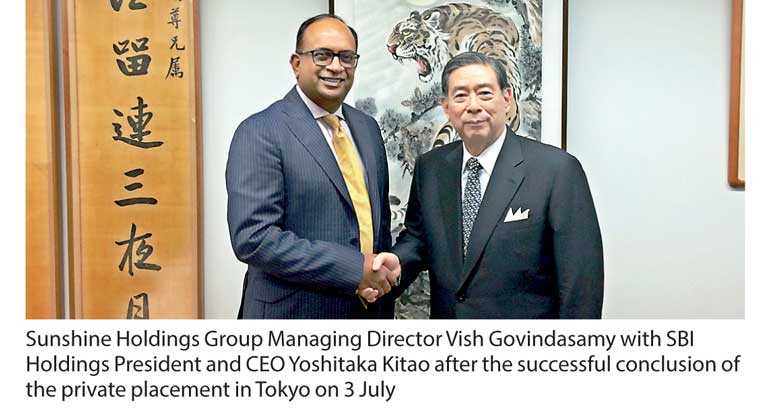 Diversified Sri Lankan conglomerate Sunshine Holdings PLC announced that its shareholders unanimously approved the proposed private placement to raise Rs. 775 million with SBI Ven Holdings Ltd., the overseas private equity firm of Japan's financial giant SBI Holdings Inc.

The Board proposed to issue 11.9 million ordinary Sunshine shares to SBI Ven Holdings at a price of Rs. 65 per share, which was approved by the shareholders at the EGM held on 28 June in Colombo. Through this private placement, Sunshine Holdings looks to reduce its net debt and net finance cost. Moreover, the capital raised through the private placement would be utilised to pay the interest and capital arising from bank borrowings.

The SBI Group is a key player in the Japanese securities industry and has keen interests in the financial services sector in Japan. With over 5,000 employees and assets under management in excess of $ 3 billion, SBI Group has offices in over 15 countries and invested in about 800 companies globally.

Commenting on the placement, Sunshine Holdings Group Managing Director Vish Govindasamy said: "The unanimous approval by shareholders of our private placement with SBI Ven Holdings marks an important milestone for Sunshine. We believe we have earned a significant premium over market price and this signals substantial unrealized value in the share."

"Moreover, this transaction brings in vital foreign direct investments (FDI) at a time when it is much needed in the market and the economy. This represents further validation of Sunshine Holdings' long term vision and strong corporate governance framework—ideally suited to the needs of foreign investors—which has won the confidence of a leading global equity firm like SBI Ven Holdings," Govindasamy commented further.

Sunshine Group has worked with strong international partners before, especially in consumer and agribusiness sectors where the Group had a long and mutually beneficial partnership with TATA Global Beverages (TGBL) and Wilmar International.

TGBL exited the partnership in December 2017 as part of its global restructures, which allowed Sunshine Group to consolidate its stake in consumer and agribusiness sectors when the Group bought over 6.7 million shares of Estate Management Services Ltd. (EMS) from TGBL for Rs. 1.6 billion.

In April last year, SBI Ven Holdings acquired a 10.99% stake in Sunshine Holdings for Rs. 742.5 million. The stake, which amounted to 14.85 million shares, was done at Rs. 50 each. SBI Ven Holdings is the third largest shareholder of the diversified conglomerate.