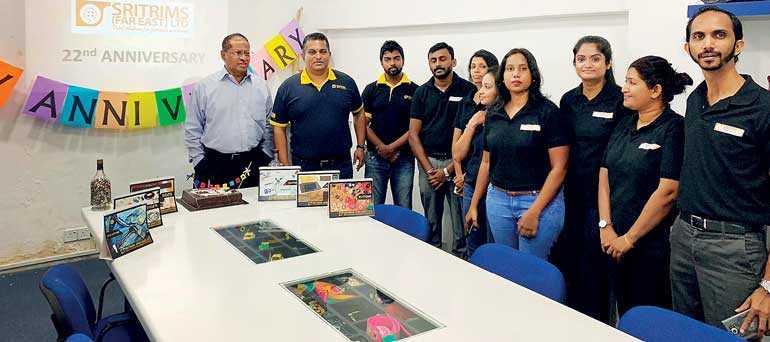 Sritrims Managing Director Nishantha Delgoda, with his team during the 22nd anniversary celebrations
---
Sritrims, a member of the Speed Group of Companies, was established 22 years ago, in 1996. A wholly Sri Lankan owned company, Sritrims is a key manufacturer and supplier of apparel and fashion accessories to internationally renowned brands across the global landscape. With gradual expansion, the Company's fully-fledged operational centres are now active in India, Pakistan, Turkey, Bangladesh, Indonesia, Vietnam, China, Hong Kong, Singapore and Cambodia, Sritrims Managing Director Nishantha Delgoda said.
Speaking at the landmark 22nd anniversary celebrations of Sritrims, he noted: "During the past two decades, the global economy suffered a setback from time to time. The downturn reflected adversely on Sri Lanka as well, where the economy was badly hit at one point or another during this period."

"As a leading manufacturer and supplier of apparel and fashion accessories to the international market, we were able to survive the vicissitudes of the economic meltdown over the past 22 years and push ahead with our operations steadfastly on a successful note," Delgoda stressed.

Continuing, he further said: "In our forward journey, the key factors which contributed significantly towards our success and excellence were exploring alternative markets, diversifying our business, modernisation, creativity, innovation and the profound commitment of all members of our staff. I take this opportunity to express my gratitude to all those who contributed in every way towards our success."

Sritrims is a member of the Speed Group of Companies, which also have under its umbrella Speed Water, Speed Motors, Speed Land and Speed Credit. The Speed Group is the brainchild of prominent businessman, Nishantha Delgoda.

Sritrims manufacture apparel and fashion accessories such as buttons, eyelets, grommets, rivets, hooks and bars, metal plates as well as webbing, braided, plattered leather, PU, wax coated canvass and all kinds of belts under stringent international quality standards at production facilities in China. The products are procured by reputed suppliers in the apparel and fashion industries in the USA, the UK and other European countries.