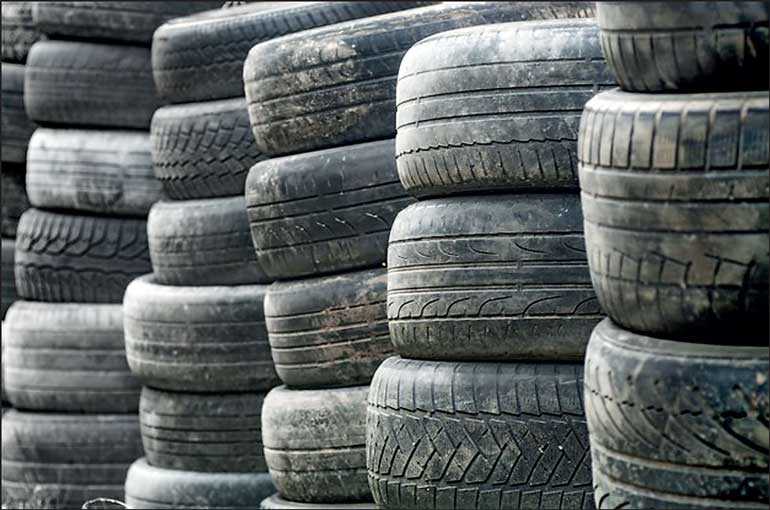 ---
Import ban has resulted in flood of dangerous 'refurbished' and expired tyres, serious road safety hazard
By Ashraaq Wahab

The Sri Lanka market for tyres, Passenger Car Radials or PCR in particular, has witnessed a shortage over the last two years due to heavy dependence on imports. With the import restrictions imposed in 2020, this segment has suffered heavily, as it faces an annual demand of approximately one million which local production cannot entirely meet.

For example, the country's largest player CEAT manufactures approximately 500,000 units per year, leaving the market with no other choice than alternatives. The most viable option would be to source tyres from other local manufacturers whose intended market is the export market.

However, regulatory, and other restrictions prove to be formidable obstacles. For example, tyres manufactured for export utilise raw materials that were imported tax-free, as a concession afforded to incentivise local industries.

This provides a competitive advantage to BOI-affiliated enterprises, over those who focus on the local market. If such a pricing mechanism could be formulated where neither party is disadvantaged, and ultimate benefits offered to the consumer, the tyre shortage can be mitigated effectively in the short term until the import restrictions inevitably relax.

This crisis has not escaped social media where all corners are airing their grievances and anxieties. Ludicrous social media posts abound, including one where truckers fill their tyres with hay (piduru) to minimise wear and tear were met with much 'laughing' and 'haha' emoticons on the posts.

Second-hand tyres once shunned are now being readily advertised on dedicated Facebook groups for buying and selling pre-owned items. Hilarious comments including tongue-in-cheek ones such as suggesting whether the Government will ask citizens to 'DIY' tyres for their cars much in the same vein as turmeric and coconut oil.

Passenger Car Radials wear out fast, and in the recent past, tyre-related accidents have spiked because wear and tear has been proportional to the influx of new infrastructure. We have more expressways; a particularly long run is possible from Katunayake to Mattala for example.

Higher speeds and increased time periods at these speeds place increased stresses on tyres and it is not uncommon to witness vehicles on the side of the expressway with flat tyres (the lucky ones), or worse, seem them have a blow-out at speed and lose control.

This writer has observed several 'blow outs' on cars as well as commercial vehicles whilst traversing the expressway. Motorists are aware of the risks of running on worn-out wheels, but many cite the lack of suitable tyres as the reason for 'stretching them out to the canvas'.

Another factor that is much less known by the public is the expiry date of tyres. Tyres break down and become brittle over time, regardless of if they are hitting the pavement daily or stored in a dark, cool storeroom, such is the nature of rubber. Hence, tyres have an expiry date.

This expiry date is expressed as a four-digit number on the side, and the first two correspond to the week of manufacture and the last two, the year of manufacture. Hence, a tyre manufactured in the fourth week of 2020 will read 0420. Good practice is to purchase tyres as new as possible, typically less than a year old, and consider replacing your tyres once they reach around six years of the expiry date due to Sri Lanka's tropical conditions.

However, we see tyres advertised for sale as being manufactured in 2017 or 2018, which means at least half their lifetime is already up, but the user has no option to purchase due to the shortage. A tragedy that could have been partially averted at least by running on tyres that were not expired is the one that befell Fast & Furious actor Paul Walker. Even if your tyres look good tread-wise after six years, consider changing them as much of the deterioration may not be visible to the naked eye!

Prices are hitting the ceiling because of the shortage, as is common in economics for any commodity with high demand and low supply. A vendor from a popular tyre shop in Malay Street projected an unprecedented price hike if the shortage isn't addressed at the earliest due to shrinking stocks and uncertain replenishment. This is another factor that can cause consumers to run on unsafe tyres, leading to more accidents and loss of life.

The situation outside Colombo is even more severe, where used and discarded tyres are even being given a 'remodel', polished up and sold. This is extremely dangerous, as Passenger Car Radials are not designed to be re-cut, re-treaded or otherwise refurbished in any fashion. One need not delve far into social media to see the amount of road casualties daily, and a close look at the pictures tends to reveal alarmingly poor tyre conditions.

Remember that the tyre is the only part connecting your vehicle to the road, four contact patches measuring a few inches each way, and no matter how strong your brakes and brilliant your driving skills may be, once that contact patch fails at speed, you suddenly will have little to no control, depending on the nature of the failure. Prevention is the best strategy, rather than attempting cure once the calamity occurs.

According to TechSci Research report 'Sri Lanka Tyre Market Forecast & Opportunities, 2021' tyre market in Sri Lanka is forecast to grow at a CAGR of 12.59% during 2016-2021. Growth in the market is anticipated on account of rising two-wheeler and three-wheeler demand, expanding automobile fleet and favourable fiscal policies: "Backed by stable business environment, sound economic conditions, availability of loans at low interest and increasing motorisation in rate in the country the automotive industry is anticipated to grow over the next five years, which, in turn, is expected to boost demand for tyres" the report states.

This is where constructive intervention from the Government might be required. Although, conventionally, tyres made for export do not cater to the local market to eliminate the shortage & prevent the greater damage of fatalities in the short term some mechanism can be introduced whereby a percentage of locally manufactured tyres could make inroads into the local market without disrupting or discouraging existing players but rather as a means of lightening their burden.

This will be a benefit to the end user because tyres made for import generally satisfy not just local but international standards and stipulations. Unusual circumstances call for unusual measures. Until such time import normalises, which however doesn't seem palpable in the foreseeable future, it might be prudent for the State to look into possibilities and options such as the aforementioned to ensure public safety.