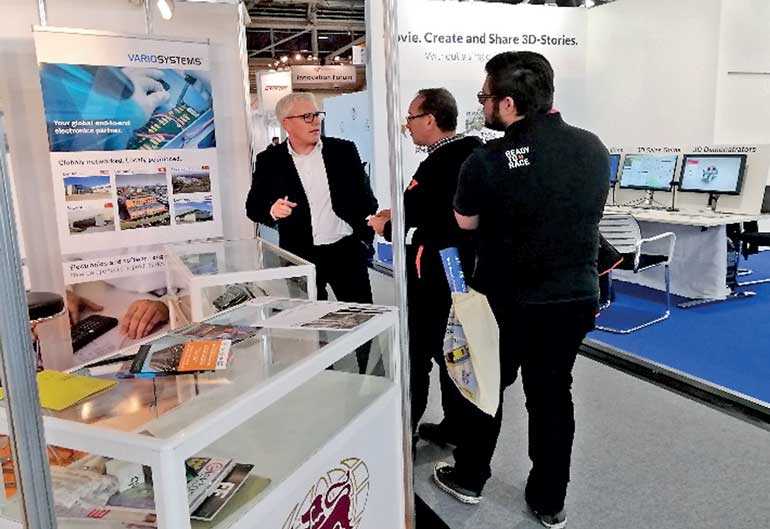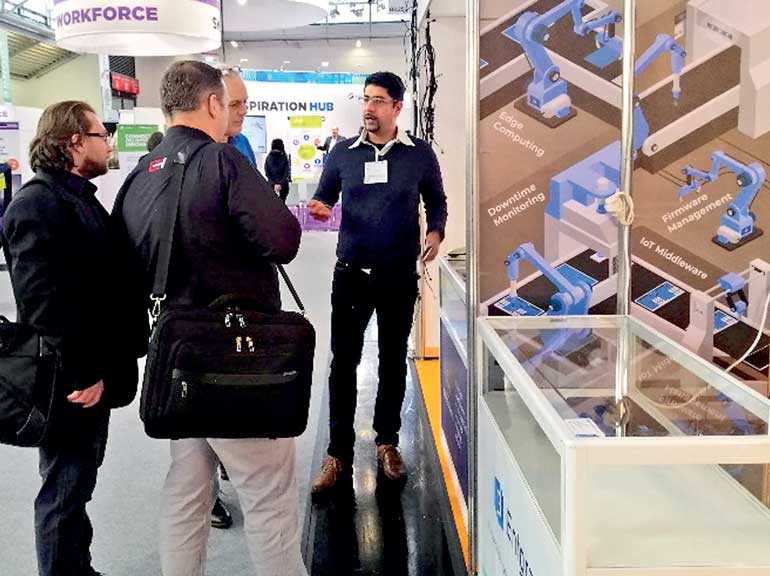 Participation in an international exhibition and fair of this magnitude can undoubtedly give us lots of exposure in terms of new leads, competitors and collaboration possibilities, said Entgra Ltd. Founder and Chief Executive Officer Sumedha Rubasinghe.
Sri Lankan electronics and electrical sector companies benefitted from Sri Lanka's participation in the first-ever Productronica 2019 event in Germany organised by the Sri Lanka Export Development Board (EDB) from 12-15 November at Messe München, Germany, with the assistance of the Sri Lankan Embassy in Germany and the Consulate General of Sri Lanka in Frankfurt.

Four Sri Lankan medium- to large-scale electronics and electrical sector companies, namely Cables Solutions Ltd, Entgra Ltd, Kelani Cables Plc and Vario Systems Ltd, participated as exhibitors at this event with the aim of promoting the electronic and electrical sector, which has been identified as one of the focus sectors in the National Export Strategy (NES).

The total business generated was around $ 3.3 million to $ 5.3 million and roughly 65 business linkages are under negotiation and are set to be confirmed by the end of 2020.

The Sri Lankan exhibitors at Productronica 2019 also showcased their products and services at Semicon Europa, the largest European electronics platform connecting industry leaders across the entire manufacturing supply chain from every segment and sector of the European microelectronics industries including Semiconductors, LEDs, MEMS and printed, organic, flexible and other adjacent markets.

Moreover, the EDB is hoping to organise a Sri Lanka pavillion at Electronica 2020 at the same venue for the betterment of the Sri Lankan electronics and electrical sector (http://www.srilankabusiness.com/electrical-and-electronics/).

Vario Systems AG stated that the company met new and potential customers, understood what competitors were doing and gained new technological insight while using the event as a platform to invite existing customers. The company said it was important to participate in these kinds of global trade fairs to meet buyers, suppliers and customers in different market segments.

Cable Solutions Ltd. was able to acquire around $ 0.2-$ 0.3 million worth of contracts from its maiden participation. It said it understood the importance of presenting at a global exhibition with exposure to the European market. Visitors with whom it had worked had the opportunity to see its product range for the first time. It revealed that the visitor profile and size of the exhibition allowed it to explore new business aspects and opportunities which otherwise would not have been seen with self-marketing.

Kelani Cables Plc said the major benefit of its participation was the broader knowledge gained through the vast European market for wire harnesses. Europe is a quality focus market and it presents a golden opportunity for Sri Lankan companies in the electronic and electrical sector that participated at this trade fair.

Entgra Ltd. was able to connect with highly relevant leads that could possibly be converted into customers. Furthermore, it said participation at an international exhibition or fair of this magnitude could undoubtedly afford exposure in terms of possibilities for new leads, competitors and collaboration.