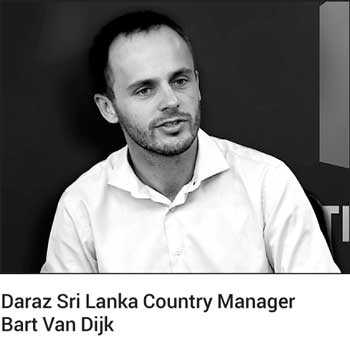 Sri Lanka recently experienced the world's biggest online sale, 11.11., or Singles' Day. The event was introduced for the first time to the country by Daraz, the fast growing online retail platform. With over 2 years in Sri Lanka, and with the acquisition of the platform by e-commerce giant Alibaba, Daraz has played a pivotal role in introducing global trends, events and technology to the online retail industry.

Following 11.11., Daraz Sri Lanka Country Manager Bart Van Dijk stated that the sale was an overpowering success with a record of approximately 60,000 orders and RS. 160 + million worth in value. The numbers are significant for a market the size of Sri Lanka and indicates the growth of the online retail market. "Daraz has been growing 300% YoY and this has definitely had an impact in the success of 11.11.," commented Van Dijk.

The campaign was not only driven through traditional media, but had the support of social media influencers, creating their own content for the sale. The technology such as the personalised mobile app and the partnerships with leading banks like HSBC, Commercial Bank, Standard Chartered Bank and Seylan Bank ensured flexibility, better offers and an enhanced shopping experience to customers.

Features such as the Mystery Boxes - gift boxes that the brands were able to create for their customers where they offered great discounts - and exciting bundle offers, especially for electronic items, created a hype much before the sale went live. Social Media Influencers added their worth by making their Top 10 picks in their own relevant fields of tech gadgets, fashion and lifestyle brands.

Van Dijk made an interesting observation in terms of the trends in shopping behaviour and purchases. "We saw that the Chinese, mid to high range mobile phone sellers were performing much better in their category. This is generally a Huawei and Samsung market but we noticed more traction coming for Chinese brands. This is also something we can expect to happen in the next few years," he stated. "However, overall there was a decrease in purchases; the average order value was lower than usual. This could be mainly due to the current economic situation. People were buying more products but at low values," he added.

Daraz.lk is no stranger to hosting large campaigns, having introduced the Black Friday concept for the first time to Sri Lanka two years ago. However, the team saw that 11.11. was going to be a bigger challenge, as the concept was not familiar in the country. With much excitement and the added inspiration that generates from the figure of Jack Ma and Alibaba, the sale received a highly positive response. "The fact that Alibaba initiated 11.11 had a lot to do with the acceptance. What Alibaba does well is to add the entertainment factor to these sales, than offer mere blanket discounts. In other markets, it is a gala event with singers, artists and fashion shows. We look forward to bring this aspect to Sri Lanka as well to make it a much more fun shopping experience," explained Van Dijk.

Speaking about their plans for the coming year Van Dijk emphasised that they would focus on expanding the logistical hubs by increasing it from the current 14 to over 20 across the country. A 'swipe-on-delivery' option will be added, which will be exclusive to the DEX (Daraz Express) rider base. In addition Daraz will consider bringing in a global collection to fill the gaps of demand. This will lead to curated products by both local and global sellers, ensuring that customers will have what they really want.

The development of local sellers to succeed in the e-commerce industry will continue in forms of physical workshops through the Daraz hubs and a few initiatives with the State education sector.

Daraz has become a catalyst in introducing global trends to Sri Lanka and setting international standards for selling online is one. As these standards are accepted globally, it becomes beneficial to other e-commerce platforms as well as start-ups. For instance, the Daraz University is an ideal knowledge source for the whole industry. In a bid to push for a cashless society, the company will also consider activating the debit card base so that Daraz will be open for transactions with anyone who has a bank card.

Addressing a key factor that online retail has had to overcome through the years, which is trust, Van Dijk explains that it is essential to be transparent about the products and where they come from. Explaining further he said, "There are 2 ways of rating a seller – operations is one, where we monitor factors like delivery time and the number of product returns. The other and most valuable metric is the customer review. Daraz sellers are given ratings based on their performance and reviews." This genuine feedback builds credibility amongst customers and is a decisive measurement in terms of the exposure the seller enjoys on the platform.

"Daraz in general is transforming from a start-up to a much more mature company. Therefore we should expect better results from ourselves and we have set our targets higher to ensure that we provide a service that is as positive as possible to the customer," concluded Van Dijk.