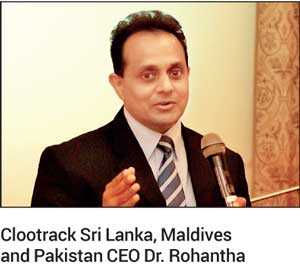 "The COVID-19 lockdown has changed the Sri Lankan consumer habits just like the rest of the world," said Clootrack Sri Lanka, Maldives and Pakistan Country Head Dr. Rohantha Athukorala addressing the Rotary Club of Metropolitan at The Hilton.

Quoting the research study done by Kantar Sri Lanka post-lockdown, the insight is that the e-consumer basket has increased from a $11 to $38 in Sri Lanka. This has been driven by e-payment, e-Banking, online medical consultation and e-sports, which the new lifestyle we see in Sri Lanka. This means that the e-commerce eco-systems will have a significant change post-COVID-19, and the private sector must change its business model, according to him.

"We are also hearing of a second wave of the deadly COVID-19 virus in China and in Chennai, and there are clusters appearing in Sri Lanka too, which means we must be ready for a second wave," said Dr. Athukorala, who also heads the Rotary Stop the Spread of COVID-19 project for Sri Lanka and Maldives. "The good news is that over two hundred companies are in the process of being certified for a 'COVID-19 Control Environment' Certification by the Sri Lanka Standards Institute, which means the companies are putting up safeguards for a probable second wave which, is prudent decision making.

"Companies like Akbar Brothers have gone on to position the company as the first tea company globally to be certified as a 'COVID-19 Control Environment', which means that we in Sri Lanka are taking the high ground globally, in a wise manner," opined Athukorala, who has experience as a former Chairman of Sri Lanka Export's Development Board and Sri Lanka Tourism.

Anantaya Resorts and Spa recently announced globally that it is the first hotel property globally, to get the 'COVID-19 Control Environment' certification which put Sri Lanka on the global media.

The speaker went on to explain how the LMRB/Kantar study reveal that 13% in Sri Lanka have tried online education, 12% have tried live broadcast through mobile media, 9% have got into data connection, 8% have tried on line shopping, 7% have paid their bills using smart phones and a drastic change where 7% have practiced religious activities on line. "This is the current reality and based on this hard data, we in Sri Lanka must change so that we remain engaged with the Sri Lankan household," he said.

The Rotary Club of Metropolitan, under the leadership of the eminent business personality Ruwan Jinasena, is driving a key project under the Stop the Spread of COVID-19 project, to certify the 'Tuk-tuk' community in the urban markets of Sri Lanka, which is another first for Sri Lanka.