Text and pic by Gitika Talukdar

A Memorandum of Understanding between the Ceylon Chamber of Commerce of Sri Lanka and the Slovak Investment and Trade Development Agency was signed recently during the Sri Lanka-Slovakia Business Forum jointly organised by the Consulate of Slovakia and the Ceylon Chamber of Commerce at the JAIC Hilton, Colombo.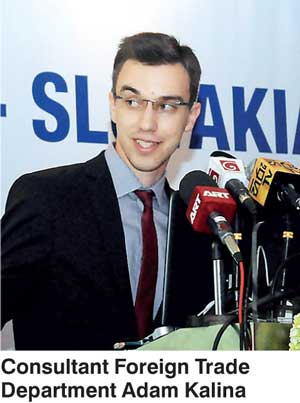 Ceylon Chamber of Commerce Chief Executive Officer Dhara Wijayatilake said: "Slovakia is a close friend of Sri Lanka and we place a great value on that friendship. When we enter into this MOU today with the Slovak Investment and Trade Development Agency, we will be confirming a commitment to improve trade, business and tourism, and continue to collaborate in promoting investments."

She continued: "Sri Lanka is increasingly becoming a great place to locate a global enterprise interested in entering regional markets. We the have undoubted privilege of a location that's strategically along the East-West crossroads. We also have the benefits of FTAs with the two regional markets of India and Pakistan, a recently concluded FTA with the Singapore and negotiations for more, providing the potential to access a significant market regionally as well as globally - a unique proposition for a country in the region. Sri Lanka is now gearing itself to leap forward in economic integration with the rest of the world and Slovakia will be an important partner in this endeavour."

Foreign Trade Department Consultant Adam Kalina, in his presentation, noted that the top exported items to Sri Lanka in 2016 are: coin (55%), cars (20%), and electrical power accessories (13%) and the top import items from Sri Lanka to Slovakia in 2016 are knit babies garments (22%), knit t-shirts (17%),knit women's suits (15%), non-knit women's suits (11%), and knit women's garments (9.1%). Kalina said that the mission of the Slovak investment and Trade Development Agency is to design business strategy and to increase the influx of foreign investment to promote Slovak companies.

The 22-member Slovak business delegation attended the Business Forum representing construction, electronics, energy, mining, ICT and security, hydrometeorology, defence and banking. Slovakia is keen to expand its trade and investment portfolio in Sri Lanka, given the emerging opportunities as Sri Lanka develops into a commercial, financial and logistical hub in the Indian Ocean region.

During their two-day official visit, Slovakian Deputy Prime Minister of Finance Peter Kažimír met with Foreign Affairs and Development Assignments Minister Tilak Marapana, Finance and Media Minister Mangala Samaraweera, Industry and Commerce Minister Rishad Bathiudeen and State Minister for Finance Eran Wickramaratne. Senior officials of the Ministries of Foreign Affairs, Finance, and Industry and Commerce were present at the respective discussions.