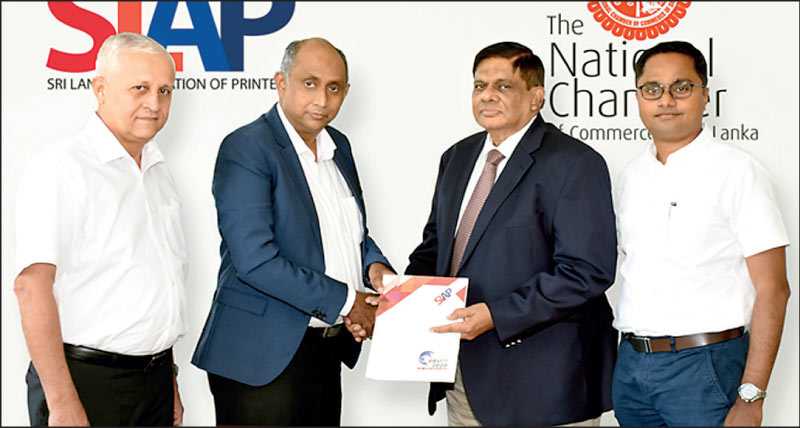 After signing the MoU. From left: SLAP General Secretary Peter Deckker, SLAP President Delan Silva, NCCSL President Asela De Livera, and NCCSL Sub-Committee Chairman Chamika Godamanna
---
The Sri Lanka Association of Printers (SLAP) has entered into a Memorandum of Understanding (MOU) with the National Chamber of Commerce of Sri Lanka (NCCSL) to facilitate the promotion of the NCCSL initiative, 'fromSriLanka.com' online platform, among SLAP member companies. SLAP members will have the opportunity to feature their products and services and receive other special benefits on this platform which operates as an online B2B marketplace for Sri Lankan companies to promote their products and services to global buyers.

"This partnership is part of our vision to be the preferred partner for all printing solutions globally, paving the way towards being the printing hub of Asia. The EDB currently rates printing as a very high potential export growth sector," says Sri Lanka Association of Printers President Delan Silva.

From srilanka.com is Sri Lanka's one-stop online destination to source all Sri Lankan-made products and services. The platform will host thousands of Sri Lankan manufacturers and service providers, very soon enticing millions of global business buyers. "FromSriLanka.com platform is bound to make a significantly positive step in promoting foreign trade and earning valuable foreign exchange to Sri Lanka and would create a new era for Sri Lankan products and services in the global market," says National Chamber of Commerce of Sri Lanka President Asela De Livera.

The Sri Lanka Association of Printers as the apex body of the printing industry has a rich history spanning more than half a decade, closely working with government, local and international organisations to harness the maximum benefits for their members. The association also seeks to develop the industry introducing modern technology and processes, skill development and by providing employment opportunities particularly to the youth of the country.

The National Chamber of Commerce of Sri Lanka has been the leading source in promoting and assisting domestic small, medium and large businesses island-wide giving a special emphasis to SMEs, as well as foreign trade for over seven decades. 'fromSriLanka.com' will be a key part in fulfilling this objective of the Chamber.