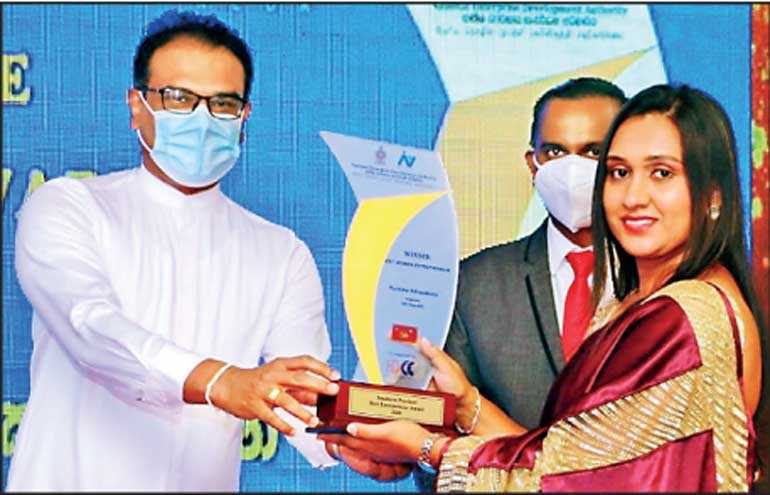 Silk Republic Chairperson Poornima Abeykoon receiving the award
---
Silk Republic, a leading sari manufacturing trading company in Matara, was awarded the Best Woman Entrepreneur of the Year at the Entrepreneurship Excellence 2020 of Southern Province organised by the National Enterprise Development Authority in collaboration with Hambantota Chamber of Commerce and supported by Chambers of Commerce in Galle and Matara was held recently at Golden Pearl Hotel, Tangalle.

Silk Republic Chairperson Poornima Abeykoon received the coveted award from the Minister of Industries Wimal Weerawansa who was the Chief Guest at the gala event. Silk Republic has received many other awards in its successful history.

"Having started with a small step this business has come a long way because we supply high quality, elegantly designed saris at a reasonable price that pleases customers. The secret behind our success is none other than maintaining a high standard and superb creativity blended with reliable service. I must thank all the members of my staff who contributed in this achievement. Also I am grateful to all the customers who trusted us over the years," said Abeykoon.

A variety of colorful saris in latest designs coming with a guarantee of quality for affordable price is what makes customers love Silk Republic. Since designing and distribution are done with a quality management, Silk Republic has always been the choice of wise customers.

Silk Republic's Facebook page is very informative and often updated with their latest collections of saris. Republic Bathiks is a subsidiary of Silk Republic that manufactures high quality batik saris in latest designs. The company plans to open Silk Republic showrooms in major town all over the country.