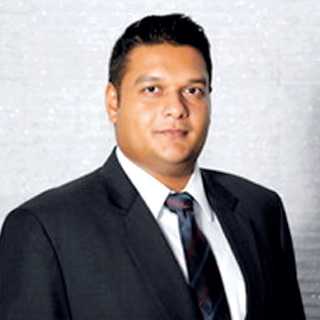 Shamal Perera
---
Shamal Perera, the son of Access Chairman Sumal, has been appointed to the Board of Access Engineering Plc as Non-Executive Director with effect from yesterday.

Shamal joined Access International Ltd. in 2009 as Director, Healthcare.

Access Healthcare is considered a trusted supplier of superior products and services in the healthcare sector, bolstered by partnerships with world-renowned brands such as GE, Agfa and Samsung.

Shamal played a pivotal role in the rapid growth of the business leading to Access Healthcare becoming a well reputed and respected supplier in the industry.

Following this success, he was appointed to the Director Board of Access International Ltd. in 2014. In 2015, Access International Ltd. proceeded to expand its healthcare services by acquiring the Ninewells Hospital, and Shamal was appointed to its Board, tasked with the responsibility of restructuring the Company. Today, Ninewells is the leading private women's and children's hospital in the country. Shamal serves on the Director Boards of many Access Group Companies including; Access International Ltd., Civimech Ltd., Access Industrial Systems, Axionent Ltd, Reprographics Ltd., Access Properties Ltd., Access Lifestyle Ltd., Access Medical Ltd, Access Real Estate Ltd., Access Transport and Services Ltd., Access Residencies Ltd., and Ninewells Ltd. He holds an MBA from the University of Buckingham and a CIMA Advanced Diploma in Management Accounting.

Shamal is also a shareholder of Access Engineering PLC with a shareholding of over 5%.

With the latest appointment the Board of Directors of Access Engineering Plc comprises of Chairman Sumal Perera, J.C. Joshua (Managing Director), R.J.S. Gomez, D.A.R. Fernando, S.H.S. Mendis, S.D. Munasinghe, K.M.A.K. Ranasinghe, N.D. Gunaratne, S.D. Perera, D.S. Weerakkody and Shamal Perera.