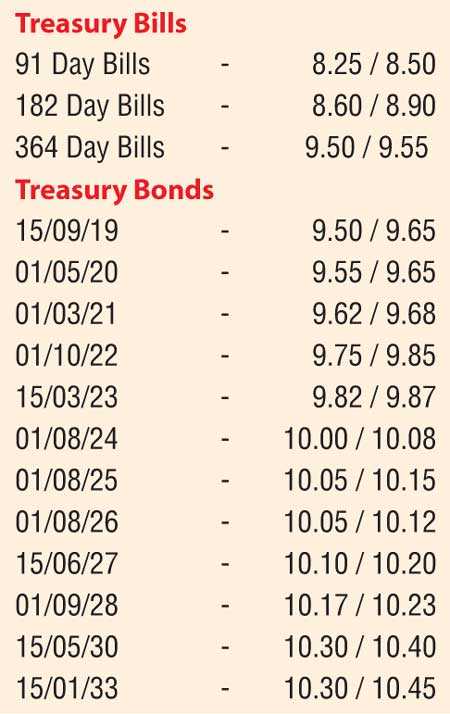 The launch yesterday (11 April) of another sovereign dollar bond, for a period of 5 and 10 years, resulted in the decline in yields in the secondary bond market. The liquid maturities of 15.03.23, 01.08.24 and 01.09.28 were seen dipping to intraday lows of 9.80%, 10.03% and 10.20% respectively against its previous day's closing levels of 10.00/05, 10.15/20 and 10.30/37. Furthermore, the 2020, 2021 and 2026 maturities were seen trading within the range of 9.60% to 9.70%, 9.65% to 9.80% and 10.10% to 10.15% respectively while the 15.05.30 maturity was seen changing hands at a level of 10.35%.

In money markets, the overnight call money and repo rates remained mostly unchanged to average at 7.86% and 7.96% respectively, as the Open Market Operations (OMO) Department of the Central Bank Sri Lanka was seen successfully injecting an amount of Rs. 6.42 billion for a period of 7 days at a weighted average yield of 8.16% by way of a term reverse repo auction. The net surplus liquidity in the system dipped to Rs. 17.79 billion.
Rupee dips marginally
Meanwhile in Forex markets, the USD/LKR rate dipped marginally to Rs. 155.65/75 on the back of importer demand, in comparison to the previous day's closing level of Rs. 155.55/65.

The total USD/LKR traded volume for 10 April was $75 million. Some forward USD/LKR rates that prevailed in the market are: 1 Month - 156.45/55; 3 Months - 158.00/15; 6 Months - 160.30/45.