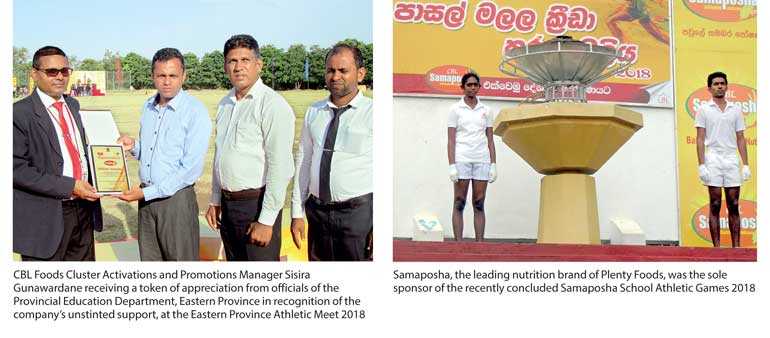 Samaposha, the leading nutrition brand of Plenty Foods Ltd., a subsidiary of Ceylon Biscuits Ltd., committed to helping local athletes reach their highest potential, was the sole sponsor of the Samaposha School Athletic Games 2018 held recently.
A total of 10,000 athletes from 1,435 schools in the North Western, North Central and Eastern Provinces participated in the Athletic Games which were held over a period of three weeks in July with each province organising individual meets.
At the North Western Province athletic games held at the Albert F Peiris Stadium, Wennappuwa, over 3,500 young athletes from 480 schools competed. The overall winners in the girls category was Holy Family Convent, Wennappuwa and Joseph Vas College, Wennappuwa was adjudged the overall boys winners.
The North Central Province showcased their young track and field stars at Athletic games held at the Mahaweli Grounds, Galnewa in the second week of July with the participation of 2,500 athletes from 470 schools. Royal College, Polonnaruwa emerged as the winner for the girls' and Central College, Anuradhapura took the honours in the boys' events. Royal College, Polonnaruwa earned further honours clinching the Overall Champions title.
The Eastern Province Athletic games was held at the Leelaratne Ground, Kantale during the third week of July where 485 schools and 3,000 athletes participated. While the Ampara District was adjudged the overall champions for both the Boys and Girls divisions, the Ampara Education Zone won the girls championship and the Paddiruppu Education Zone won the title for the boys.
Over the years, CBL Samaposha has relentlessly continued their drive and commitment in supporting the development of promising athletes and as a result regional athletics meets have grown from strength to strength. Additionally, through the games budding athletes are given the opportunity to showcase their talents.
"We believe that engaging in sporting activities, being part of a team and focusing on reaching their highest potential is an ideal way to develop the athletic talents of our nation's youth. Samaposha has consistently been recognised in helping Sri Lankans especially children meet their nutritional needs. Our contribution helps youth remain motivated and committed in living a healthier lifestyle," said Plenty Foods Ltd. General Manager, Marketing Jayanga Perera.
The Samaposha School Athletic Meets not only celebrates the sporting talents of the children in these provinces but also acknowledges the farming communities living in the area for their contribution in providing high-quality raw materials for the manufacture of Samaposha.
"Plenty Foods is proud to be associated with over 8,000 farmers who form part of its dedicated out-grower network. The company remains committed in supporting these farmers and their families and has established several corporate welfare programmes to strengthen their livelihoods," added Perera.