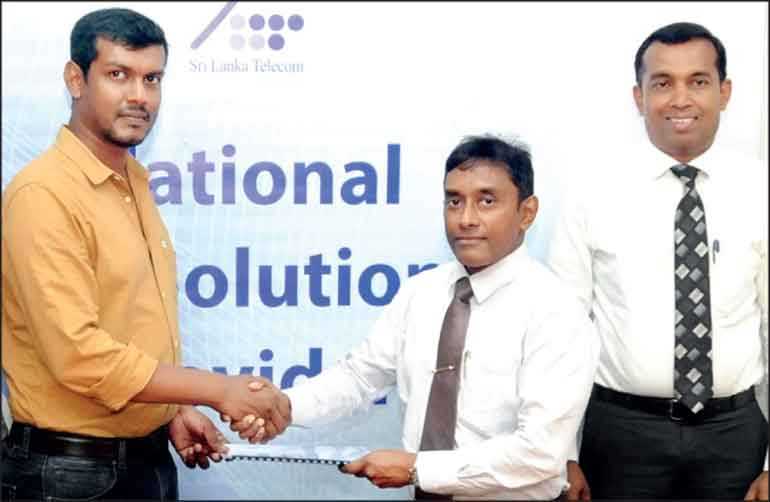 Participants at the agreement signing. From left: Espacoi Owner Thirumaal Yoganandasivam, SLT Chief Sales and Regional Officer Imantha Wijekoon, SLT General Manager Chethana Attanayake
---
Sri Lanka Telecom (SLT), entered into an agreement with Espacio-Colombo 13, a leading property developer and BOI approved company to be the Digital Solutions Provider for the company's latest luxury apartment complex, Espacio Residencies, currently under construction in Colombo 13.
The agreement was signed recently at SLT head office premises in Colombo Fort by authorised signatories SLT Chief Sales and Regional Officer Imantha Wijekoon, Western Province Central General Manager Chethana Attanayake and Espacio-Colombo 13 Owner Thirumaal Yoganandasivam, in the presence of witnesses as well as other representatives from both the companies.
Espacio Residencies is all about luxurious living that redefines space and exceeds dreams and expectations of what luxury living is all about. Once completed, Espacio Residencies at Colombo 13 will comprise of 42 luxury apartment units. Luxury is not complete without access to 24x7 internet via SLT's ultra-fast broadband connectivity that brings the world to one's fingertips. SLT, as the Digital Solutions Provider for the apartment complex will be powering all 42 units with the company's ultra-fast broadband connectivity provided through fibre technology that will give residents a broadband experience like never before, allowing for maximum speeds of up to 100 Mbps.
Furthermore, this agreement means that residents will also have access to the next revolution in entertainment television, PEO TV, that promises an uninterrupted entertainment experience even during rainy weather, in addition to other features such as rewind TV, time shift TV as well as a host of popular movies on demand. Through this agreement, SLT will be providing the backbone necessary for a Smart Building that will, in the near future, transform ordinary lives of residents into truly digital lifestyles, which go hand in hand with luxury living.
Espacio-Colombo 13 Owner Thirumaal Yoganandasivam commented on the partnership, saying, "We are glad to partner with SLT, the leader in ICT and digital solutions for this luxury apartment complex because I believe that luxurious living and digital lifestyles go hand in hand. ICT can greatly help to enhance living standards. Since we want the very best experience for our clients, we found it necessary to partner with the very best in the field. This is why we selected SLT to be our partner for this project and we look forward to a mutually beneficial partnership in the coming months and years."
SLT Chief Sales and Regional Officer Imantha Wijekoon also gave his comments, saying, "We truly believe that through our digital solutions we can totally redefine what luxury living is all about. Today, ICTs and digitalisation has totally changed the way we live, work, study as well as entertain ourselves, when compared to how it all used to be just a few years ago. SLT is in the process of expediting the digital revolution in Sri Lanka facilitating more and more Smart Buildings across the country. Through our robust and ultra-fast fibre broadband connectivity, we will be building the platform necessary for a Smart Building at Espacio Residencies that will ensure that the residents of Espacio are geared and ready for the next phase of the digital revolution, and take luxury living to the next level. The possibilities are endless. We are truly happy about this partnership and we thank Espacio-Colombo 13 for selecting us as their partner for this luxury apartment complex and for the confidence that they have placed on us."