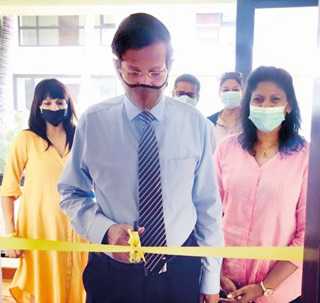 Chairman A.R. Rasiah cutting the traditional ribbon, in a simple ceremony, to open the premises alongside Deputy Chairperson Aroshi Nanayakkara and CEO Radika Obeyesekere, and Council members Nadija Tambiah and Dilshan Rodrigo
---
In keeping with its rapid expansion plans, Sri Lanka Institute of Directors moved into a prestigious and convenient location at Cinnamon Grand Hotel very recently.

Cinnamon Hotels are now one of the partners of SLID and offer special rates to members of SLID at all Cinnamon Hotels. Plans are afoot to 'tie up' with a Credit Card company as well as to issue membership cards.

The popular Board Leadership Training (BLT) is being revamped and modernised by Aruni Rajakarier, a Council member, with assistance and support from IFC as well as SEC. There are grand plans to upgrade the Women Directors' forum under the stewardship of Aroshi Nanayakkara, including the launch of a training program aimed at creating 'Board ready Women'. The Independent Directors forum (INED) under senior Deputy Chairman Faizal Sally is also being formulated to clearly highlight the importance, responsibility and liability of independent directors. Audit Committee (AC) forum is as active as ever in partnership with KPMG and completed the 23rd AC forum very recently.

SLID is also in partnership with ACCA, ACA and CIMA to make BLT programs a CPD program for the members of these leading professional bodies. Two special and enthusiastic committees formed to update members on modern technology as well to rebrand SLID are in the final stages with their recommendations. Steps are being taken to tie up with the International Directors' forum so that SLID becomes a member of a world body.

"We have come a long way from our humble beginnings more than a decade ago to a leading professional body, thanks to the support and assistance of its Council, members and sponsors," added the Chairman.