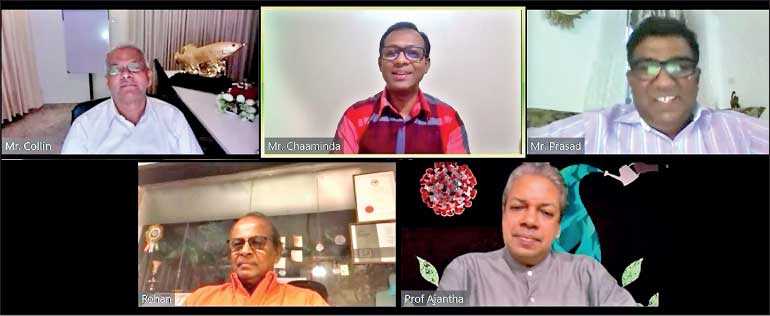 The SLCSMI webinar on Solutions for Employer and Employee
---
Positioned as the frontliners in uplifting the local small and medium enterprise (SME) sector, Sri Lanka Chamber of Small and Medium Industries (SLCSMI) recently launched a webinar series named 'The Way Forward for SMEs' – an interactive platform which brings together industry professionals and knowledge experts to initiate discussions on how the sector can overcome the adverse effects of COVID-19 and build resilience to thrive in the new normal.

The webinar series, conducted in tandem with Blue Lotus 360, is yet another testimony to SLCSMI's continued services for the effective development of the SME sector, and has gained traction on social media since its introduction in end-April as it has focused on discussing the real burning issues faced by many organisations and has provided practical solutions to overcome each of the key challenges faced.

Streamed over Zoom and Facebook Live, the second webinar of the series, named 'Solutions for Employer and Employee' was held recently. The session was moderated by Management Consultant and Senior Chartered Accountant Chaaminda Kumarasiri, who is also the strategic advisor to SLCSMI. Panellists included PIM Director and CIPM Immediate Past President Professor Ajantha Dharmasiri, Attorney at Law and Employer's Federation of Ceylon Assistant Director General/Head of Plantation Services Prasad De Silva, and St. Theresa Industries Chairman and Managing Director Collin Fernando who also serves as Senior Vice President of SLCSMI.

The webinar kicked off with Chaaminda giving an overview of the impact of COVID-19 on the global and local workforce. "ILO has indicated that around half of the global labour force will be at risk of losing jobs," he shared, mentioning the emergence of a new kind of employee – the socially distanced worker.

Professor Dharmasiri brought to light the need for collaboration between employers and employees: "There are employer expectations and employee aspirations – there should be a harmony here. Therefore it's imperative that we stop considering ourselves as employers and employees, but start treating everyone as partners of progress and contributors to collective success." He further underlined the need to develop "the right mindset, the right skill set and the right tool set" in order to attain sustainable results for the SME sector.

Prasad De Silva highlighted that employment relationships are necessarily tripartite in nature involving employers, employees and the state. "If we are to move forward, all three stakeholders have to play their respective roles. Times are changing and the world of work is changing and we need to do things differently. In the long run, out of the box solutions like working from home, flexi hours, freelance work, job rotation and other new work patterns will be the way of working."

Collin Fernando contributed to the discussion by sharing his experience as an employee, employer and entrepreneur, and highlighted, "We need to have a collaborative mindset – both employers and employees have to work in tandem," he stated. He added the need for both parties to "be more responsible, work beyond job scopes, develop team spirit and selflessly work for the greater good."

President Rohan De Silva, who is a Chartered Interior Architect, Chartered Furniture Designer and Master of Interior and Furniture Design, highlighted the key focus of the webinar series – 'Made in Sri Lanka' – reinstated the importance of its recurring theme: 'Be Sri Lankan. Buy Sri Lankan'. He concluded the session by thanking the panellists for their insightful inputs and also recognising HCP Consulting headed by Chaaminda Kumarasiri, Blue Lotus 360 and the chamber's webinar team for their contribution and support for the realisation of 'The Way Forward for SMEs' webinar series.