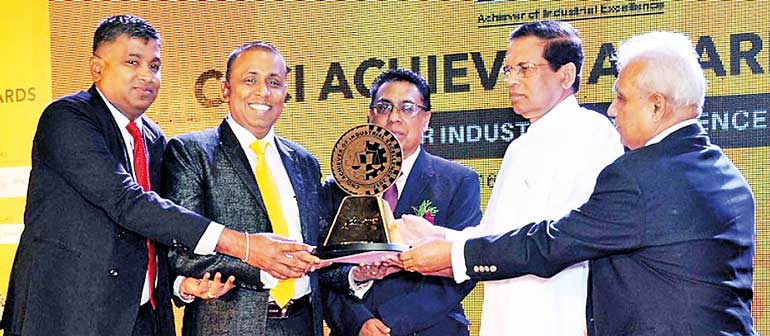 President Maithripala Sirisena presenting the National Gold Award (Extra-Large Category – Service Sector) to SAW Engineering Chairman/Managing Director Dr. Athula Jayarathna and Group General Manager Bandula Jayarathna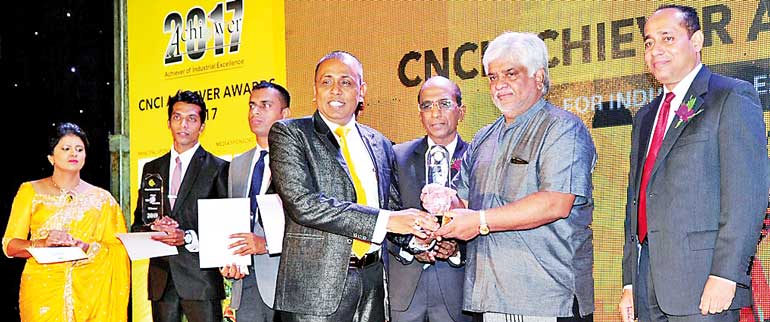 SAW Engineering Chairman/Managing Director Deshamanya Dr. Athula Jayarathna receiving the prestigious top ten Achievers National Award (Special Awards – Extra Large Category) from Minister of Petroleum Resources Development Arjuna Ranatunga
With over a decade of proven, evolving experiences and innovation both locally and internationally in the engineering sector having won many prestigious accolades and titles, SAW Engineering yet again clinched the National Gold Award in the Extra-Large Category – Service Sector and the Top Ten Achievers National Award (Special Awards Category) at Achievers Awards 2017.

Organised by the Ceylon National Chamber of Industries (CNCI), the chief guest for the 16th Achiever Awards event was President Maithripala Sirisena and Minister of Petroleum Resources Development Arjuna Ranatunga was guest of honour.

SAW Engineering Chairman and Managing Director Deshamanya Dr. Athula Jayarathna commenting on this achievement said, "We are very delighted to have been recognised at the recent CNCI Achievers Awards for our immense efforts and contribution in the Industrial and Services sector of Sri Lanka. This reflects well on our continuous drive to enhance and innovate in the engineering domain whilst sharing knowledge and experience among others in the industry."

SAW Engineering is no stranger to winning similar achievements also just last year being awarded two Gold awards in the large category and construction sector at National Business Excellence Awards, reflecting well on its continuous growth, innovation, premium quality and excellence in its service. Its operations is spread across all parts of Sri Lanka including many other regional countries such as Myanmar, Bangladesh, Maldives, India, and Singapore to name a few.

"We are striving in all possible ways to take the company as well as the engineering sector we serve in Sri Lanka to greater heights in the global landscape and we're confident to thrive in similar initiatives and achievements in the future," he further said.

SAW Engineering's operations cover the entire scope of engineering services, SAW is an ISO 9001-2008 certified and is an ICTAD EM-1 and C2 graded company.